Wekaf world championship held in Cebu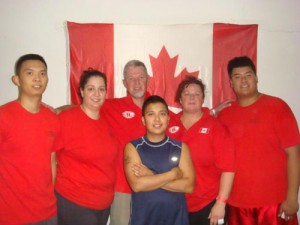 The 12th Wekaf World Championships was recently held in Cebu, Philippines this past July. Some 700 eskrimadors from 30 countries–including first-timers Oman, Indonesia, Leichtensein joined the event. Team Canada just returned from their journey, as members include Punong Guro Laura Holmes, Guro JB Ramos, Paul Limgenco, Kris Flores, Nadia Bruno and James Armstrong. Each of these team members came home with a medal. They have done extremely well for a team of 6 fighters.
Guro JB Ramos, took a gold in both single and double stick full-contact sparring. Gaining the title of World Champion in both categories. As well, had won bronze in the women's double traditional weapons form. Kris Flores took a gold in single stick sparring, silver in double stick sparringand bronze in men's traditional weapons form.
Paul Limgenco took a bronze in double stick sparring and silver in men's traditional weapons form. Nadia Bruno took a silver in double stick sparring – not bad for a first timer! The women's team (consisting of Punong Guro Holmes, Guro Ramos, and Nadia Bruno) took a silver in team sparring, as well, the men's team (consisting of Paul Lingenco, Kris Flores and James Armstrong) took a bronze in team sparring. All in all, 11 medals won by this team that represented Canada.
In addition, JB Ramos also won a bronze in weapons forms at an impromptu tournament held in Manila. It was the "Tagisan Ng Palasan" Ultimate Eskrima Challenge in Paranaque, Manila prior to competing at WEKAF World Championship.
(PRESS RELEASE)