Making Waves rocks Yonge-Dundas Square
On August 18, 2012, the Filipinos Making Waves Festival and Parade became a grand celebration for the Filipino people at the the heart of downtown Toronto, the famous Yonge-Dundas Square. 
This year's festival was celebrated in great stride reflecting the many "firsts" in the community and amoung the festivals held this summer. The Kawayan "Wave" Parade was led by our people and the Philippine flag, together with the Canadian and Toronto Police colours, under the appreciative stares of tourists and mainstream crowd on Yonge St.
During its parade program, the Filipinos Making Waves Awards were given to Rafael Nebres, General Manager of Action Honda, for community leadership, Alfredo "Pidoy" Pacis, for business excellence in the community, and from the youth sector an award was given to Gian Carlo Bobila, for his world-class talent in singing.
Firstly, the staff and officers of the Philippine Consulate General-Toronto, under the leadership of Consul General Junever Mahilum-West, came in full force to hold the first swearing-in ceremony for Dual Citizenship, witnessed by TPS Staff Inspector Ronald Quan, on centre stage.  In addition, a makeshift Consular office (booth) with the Philippine flag proudly set at the entrance, was opened for consular services on site.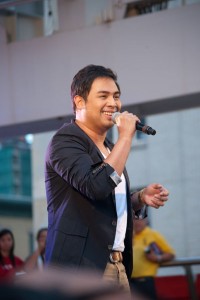 Another first was the arrival of a  Department of Tourism representative, Ms. Mitchelle Dy, who came on official assignment to witness the parade ceremonies and to promote the Tourism slogan, "It's More Fun in the Philippines" at the festival.  A splendid FMWF Filipiniana booth, created and coordinated by Team Philippines (Annagaile, Lek, Aris, Rico, among others) was erected right at the mouth of the Square, facing Eaton's Centre and where tourist buses stopped every half hour. 
For beer lovers, a relaxing bistro setting was the site of the festival's first-ever Beer Garden courtesy of FV Foods. In the evening, the huge crowd who gathered at the Square was serenaded by no less than Jed Madela, presented in partnership with ABSCBN-TFC.  The ABSCBN team was led by Marco Amoranto, Rosary Escano, Mario Marasigan, among others.  On Sunday, August 19th, the successful Youth Waves event held its first festival concert tour at the Queen Elizabeth Theatre on CNE grounds during its opening weekend, another first for this year's festival. These and many more attractions fulfilled the Filipinos Making Waves Festival's goals to give the community a memorable summer  weekend of fun, togetherness and cultural pride.  And all these for free.
(PRESS RELEASE)