Rey Aguila Retrospective
Joseph D. Carrier Art Gallery, Atrium A Lobby
Columbus Centre 901 Lawrence Ave West (west of Duffferin St )
Show runs December 6, 2012 – January 7, 2013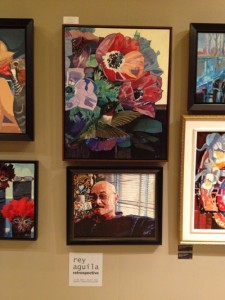 By Melanya Liwanag Aguila
Rey Aguila immigrated to Canada from the Philippines in 1967 as an Architectural Renderer. He would make a blue print of a building come alive in days and sometimes overnight. Precision and perfection is what comes to mind when viewing file after file of 45 years of his architectural renderings in watercolours, originals by hand, his perspectives. This is what guests walked into at Rey Aguila Retrospective opening reception, a slide show viewed on a monitor displaying 45 years of this Filipino artist.
What remains unseen is the other side of Aguila. As he was creating architectural perspectives in his professional life, he was also creating his perspective on life, on canvas, on paper and on board. He applied acrylics and watercolours in exploration of cityscapes, transportation and life forms. His journey from hyperrealist to complete abandonment in free-flowing abstract expression is just fascinating. Each set of paintings so remotely diverse but what remains a constant is his undeniable awareness of composition and distinct colour harmony.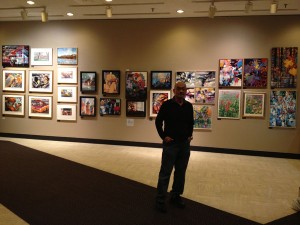 Come and see a wall of art work and a lifetime of commitment to a passion of expression. Rey Aguila Retrospect runs until January 7, 2012 at Joseph D. Carrier Art Gallery.  For more information, visit www.carriergallery.com.
(Photo provided by author)