Scarborough Knights receive Queen Diamond Jubilee Medal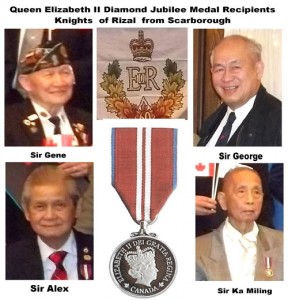 Just before Christmas, the following Knights of Rizal were awarded the Queen Elizabeth II Diamond Jubilee Medal, presented by the Governor General of Canada to community leaders for their significant contribution and achievements in Canada, to celebrate 60th anniversary of Her Majesty Queen Elizabeth II accession to the throne as Queen of Canada.
Knights from Scarborough includes Sir Gene Dorotheo Sr., KCR, Sir Alex Parucha, KCR, Sir George R. Poblete, KGOR and Sir Emiliano Silverio, KGCR.
Other Knights who received the Queen Diamond Jubilee Medal were: Sir Romi Mananquil, KCR of Mississauga, Sir Ben Ferrer, KCR of Toronto, Sir Ken Green, KCR and Sir Dr. Roland Guzman, KGOR of Winnipeg.
In Toronto, the Queen Medal was presented by Hon. Senator Sir Tobias C. Enverga Jr, at the Canadian Forces College in York Mills.
(PRESS RELEASE)