Pineapple Express: Art and Filipino cultural identity
By Beatrice Paez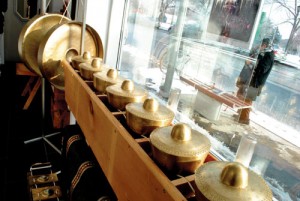 Jennifer Maramba is no thief. The business of art can fall prey to the appropriation of cultural artifacts, with artists not investing enough time to learn the customs built around them. Distance is no excuse for Maramba and her artist family, as they head back to the sun-stroked shores of the Philippines to spend two weeks learning from and trading art practices with the T'boli community.
It wasn't a familial connection that drew them into the fold of the community. But it's where Maramba hopes to reconnect with her family and to explore the Filipino culture, before it became defined in relation to the Spanish and Chinese influence.
Indigenous to Lake Sebu in Mindanao, the T'boli are fiercely committed to preserving their cultural heritage. "They have a strong connection to their living conditions," says Maramba. "Despite assimilation from the government or colonialism, they were still able to have a strong hold on their traditions."
Before jetting off, Maramba, her partner, Alex (JR) Punzalan and their son, Kawayan Punzaramba held Pineapple Express, a three-day cultural bazaar that showcased the work of local Filipino artists and publicized ongoing efforts to rebuild the T'boli School of Living Traditions (SLT). Housed in a hut where community youth gather to inherit the techniques of traditional art and craft, torrential rain caused the school to cave in last May.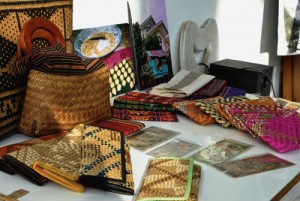 The event was but one of a series of collective efforts in collaboration with Kapwa Collective, a multidisciplinary group of Filipino community leaders, to raise funds for SLT and the School of Indigenous Knowledge and Traditions (SIKAT). As a school for underprivileged children, SIKAT integrates traditional and indigenous knowledge into the curriculum.
With his Canada Arts Council grant, artist-musician Punzalan will delve into the instrumentally rich music of the T'boli people. As part of the community's drive to document and preserve their cultural knowledge, he was asked to record their epic chants and songs. While there, Maramba will run workshops on Western art techniques in printmaking and painting, as requested by the community.
"We can't just be consumers that we are, that we just take what we need, without the education," Maramba explains the idea behind their cultural exchange.
To support the community's efforts to revive the school, they held an evening social and also sold locally produced (in Toronto and the Philippines) goods. An assortment of hand-woven batik clutches, Technicolor prints, and illustrated T-shirts were in stock, along with other crafts. There was even a kulintang on hand for play.
The proceeds from the sale of items, along with donations collected from their social events, would go to supporting the cultural schools and the Kasiyana Peace & Healing Centre Farm in Sagada, Luzon. Kasiyana is another social enterprise whose mission is to have an organic garden that can supply the community with healthy food, which Maramba hopes to play a part in.
She is also known as the founding partner of Miracle Thieves, a social enterprise and creative space open to the public's imagination. Though she has since relinquished her partnership with co-founder, Tiffany Naval, the two continue to collaborate. Miracle Thieves' corner spot facing the backwoods of Trinity Bellwoods hosted the event.
Maramba's own work as an artist has evolved from the personal to the socio-political, in bringing underreported issues to mainstream ground — to both the Filipino Diaspora and the Toronto community. "Even though we're not directly from those communities, we still feel it's important to connect these global issues and put it in the forefront," says Maramba. "It's about time that these people have a voice."
Maramba found her voice as a Filipino artist as an undergrad, her curiosity in Filipino art developed while studying art history at the University of Toronto. "Initially it was a way to understand my parents because we kind of had a cultural clash," she says. "They immigrated here from the Philippines for a better life, but they grew up differently."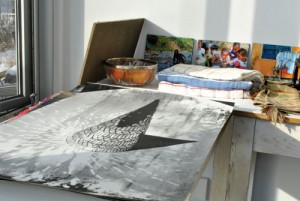 Under their household, certain things, such as dating and going out with friends to movies, were off limits. Art allowed her to sort through emotions of frustration and plumb through her Philippine identity. Symbols of indigenous women in her printmaking, paintings, and illustration would find themselves woven into her art and she began to take an interest in understanding their significance.
"I started to question who are we beyond the Spanish," she recalls. It's a question that she's long pursued through her art and music and is continuing to investigate. It gave her fodder for a piece that memorializes her mother, in which she superimposed her mother's image onto old photographic faces of indigenous women to depict various life stages.
And it's the question that has led her and her family back to Lake Sebu.