Multi-award winning film Quezon's Game: A tale of moral fortitude
Multi-award winning film Quezon's Game: A tale of moral fortitude
Interview with David Bianco and Jennifer Blair-Bianco
By Michelle Chermaine Ramos
The Philippine Reporter
In World War II, Hitler's reign of terror in Nazi Germany sparked the Holocaust and sent the Jews desperately seeking refuge in other countries, most of whom turned a blind eye. When more powerful countries such as the United States and Canada turned them away, President Manuel L. Quezon of the Philippines opened his heart and his country's borders saving over 1,200 Jews. This incredible feat would go down in history as a tale of moral fortitude, courage and compassion in the midst of personal and political adversity.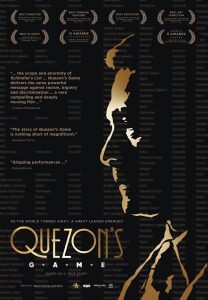 Quezon's Game has won 25 awards including Best Foreign Feature and Best Director from six international film festivals and is produced by Star Cinema/ABS-CBN Film Productions in association with iWant and Kinetek. The historical drama directed by British Jewish director Matthew Rosen and co-produced with his Filipino wife Lorena "Lori" Rosen, will hit U.S. and Canadian theatres on January 24, 2020, in time to commemorate the 75th anniversary of the liberation of Auschwitz on January 27, 2020. For director Matthew Rosen, the movie is his "thank you" to the Philippines which he has called his home for 37 years. It chronicles how Alex Frieder (Billy Ray Gallion) a prominent Jewish businessman based in the Philippines and his friend President Manuel L. Quezon (Raymond Bagatsing) together with American diplomat Paul V. McNutt (James Paolelli) and future U.S. president Dwight D. Eisenhower (David Bianco) who at that time was a young U.S. Army Colonel under General Douglas MacArthur came together to devise the rescue mission.
American actor David Bianco bears a striking resemblance to the young Dwight D. Eisenhower and was joined on screen by his real wife Filipina-American actress Jennifer Blair-Bianco who plays Mamie Eisenhower. They previously worked on a TV series with the Rosen family in 2011 when they were cast in leading roles in The Boston which resulted in their five-year stay in the Philippines. The Rosens had already begun thinking about creating Quezon's Game and were considering the Biancos for the roles. Years later, the Rosens called them back to the Philippines when production started on the movie when their theatre stint in China ended. Currently based in Chicago, they shared how they approached their characters and the significance of the true stories behind Quezon's Game today.
MCR: How did you prepare to play these historical characters?
DAVID: I started reading up on Eisenhower. He wrote At Ease which chronicles his life up to the presidency. I focused on his early years so that in my preparation I wasn't necessarily thinking about his achievements and what he became. I was thinking more about what were the ingredients that psychologically made up who he was so that when I approached the character on set, those types of realities were at the forefront of my mind. For example, many people might not know that Dwight and Mamie had a three-year-old son they lost once they got to the Philippines. So, you see what Dwight was dealing with on screen but on the private side, around this time they were both grieving their loss. A lot of the recordings that Dwight did are speeches he did as president, so he has a more mature voice. But how someone speaks in front of a thousand people can be different than what they sound like behind closed doors. So, I tried to tone some of that down and play the circumstance, have the inspiration of the transatlantic accent but really focus on my scene partners, the circumstances and what we were trying to accomplish with regards to the characters who were trying to hatch this plan to save the Jews.
JENNIFER: I was totally nervous because at first, I thought I don't really look like her. When I talked to the director, he just said to bring truth to the character. Of course, with Eisenhower, they really wanted David to look like him and actually, there are pictures of young Dwight Eisenhower where they look very similar. For me, I did the best I could researching by reading some books. I took the facts I knew about their relationship. We worked it with the director and tweaked it wherever it needed to be tweaked. When actors play a person who actually existed, they often have a professional coach helping them speak the way that person speaks, or maybe they have more time to prepare with other professionals who help them shape that character according to history. But since we were overseas at the time, we didn't have that, and we had to do the research on our own. I was searching for videos of Mamie and how she talked but I couldn't find anything. I wanted to know her cadence of speech and since I wasn't able to pick up on anything there, I was able to have that liberty to make her my own Mamie. I think that's also the beauty of creating, of being an artist.
MCR: What was it like working with the Rosens?
JENNIFER: They are brilliant and very hardworking. They're such wonderful people and they're team players. They're big family people. Everybody on the set whether it's the grips or the guy working the camera or the sound people or the actors, they include everybody on it and they make us all feel very welcome and that's something I really appreciate about Matthew, Lori, Dean and Dylan.
MCR: Why do you think Quezon's story had to be told now?
DAVID: I think in general, good leaders are hard to come by. Leaders who can affect their community and the world in a positive way, leaders who are not afraid to stand up for what they believe, leaders who want to include different cultures. This is a multicultural world we live in. With all of the different kinds of transportation, we can go anywhere. We have the internet moving a mile a minute. We have all of the tools to bring this together, yet we need leaders who are not afraid to ask the difficult questions, who are not afraid to step up to the table and help find solutions. People who don't kick the buck down the road and wait for the next administration to do something. These are people who, I think all of us in our different countries are looking for leaders with these qualities. He was a man with a conscience. Eisenhower was a man with a conscience. And the Frieder brothers were men with consciences who wanted to do something and created a plan and pitched it to the United States and found a way to make it work. They were loyal to each other and the cause and ultimately, they were successful. Maybe not as successful as they originally hoped, but the lives they saved are to be noted.
MCR: In your research portraying Eisenhower and seeing how he and Quezon were brought to life on screen, would it be safe to say that perhaps his interaction with Quezon might have influenced how he later led his country as president?
DAVID: Eisenhower was known for his military acumen and success in Normandy and other important battles in the European front. When he was in the Philippines at the time, Quezon was initially a senator so both men rose through the ranks together. So, I think there was a friendship there and Quezon got the opportunity first to lead his country. Actually, Eisenhower got the opportunity to be the Chief of Police for Quezon City. He was actually offered that position. Just thinking of grooming in terms of preparing for the presidency, I think the loyalty and patriotism that Eisenhower witnessed in Quezon was a characteristic Eisenhower took very seriously as a patriot and as a soldier and when called upon, Quezon did not shy away. Similarly, when Eisenhower was called upon to create the strategy for Normandy and carry it out, he was not afraid, and he was cut from the same cloth and followed through on what his country asked of him. In that way, I think Eisenhower was encouraged and inspired. I think you could draw that parallel that that line was there.
They wanted to do what was right to save the country, they cared deeply about the different people under their care. I feel especially in this current climate, it's very difficult to stand for what you believe without all the naysayers and without all of the political ramifications. This story itself, Quezon's Game, it was a game then and it's still a game now. So, I think that's also the title tipping its hat to the relevancy of that theme that has not actually changed.
MCR: What impact do you think or hope this story will have on its Filipino audience, the Jewish community and international moviegoers?
DAVID: Americans can be proud that at one point in time they had a young leader who was willing to do what was right and was willing to collaborate with a leader from another country and impact the lives of more than 1,200 people and do what was right in the face of adversity. In the face of not being popular, he stood up and helped save lives. He was a hero.
On the Filipino side, I think similarly, this island nation which was colonized by many different countries has been looking for its own identity for a long time. I think the importance of Manuel Quezon at that particular time to be able to successfully broker a deal with the United States for the country to gain its independence is a benchmark in its history. He was the one who spearheaded it and that has to be acknowledged. Additionally, his ability to work with different countries, to negotiate, his ability to work with Eisenhower and handle his personal life the best he could in service of the people, these are all characteristics and traits which we can only hope for in our future leaders to come.
It's probably a little-known fact that there's open borders for travel from the Philippines (to Israel). People might know about it but not know why. The fact that the Frieder family had assimilated themselves into the lifestyle and culture in the Philippines and had a successful business there and decided that they wanted to give back and wanted to do something for Filipinos, I feel that is just…wow. They risked themselves. There was a whole string of people and personnel who worked together. The fact that they offered resources to the people who were coming off the boat, extending themselves and being leaders in the Jewish community is a testament to the international Jewish community. I think the spirit of that type of heroism and loyalty is still a trait of the Jewish community so people will be surprised if they didn't know the story, but it will still resonate with them as a characteristic that they still hold true today.