'Freezing of peace consultant's bank account shows how state wields power against innocent' – kin
'Freezing of peace consultant's bank account shows how state wields power against innocent' – kin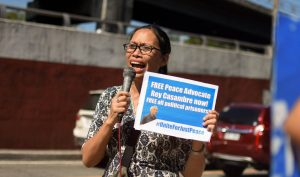 "It is terrifying to see so much state power wielded with impunity against the powerless, defenseless and innocent. Yet it is also tragicomic that the high and mighty would plunge into such a squalid abyss for such puny gains, and ultimately counterproductive outcomes."
By ANNE MARXZE D. UMIL
Bulatlat.com
MANILA – Elderly peace consultants are unjustly being deprived by the government of their ability to take care of their needs.
Xandra Bisenio, daughter of detained peace consultant Rey Casambre revealed that the Anti-Money Laundering Council has frozen the bank accounts of her father, depriving them access to funds that they use for the essential needs of their father, especially during the pandemic.
This has brought anxiety to the family and friends of the peace worker.
The decision of the AMLC came after the Anti-Terror Council (ATC) designated Casambre and other peace consultants of the National Democratic Front of the Philippines (NDFP) as terrorists, per the contested Anti-Terrorism Act of 2020.