Film Review: Yellow Rose (2019): A heartfelt story of the undocumented
Film Review: Yellow Rose (2019): A heartfelt story of the undocumented
By Ysh Cabana
The Philippine Reporter
Yellow Rose  begins as a simple story : Rose Garcia (Eva Noblezada) is a starry-eyed, teenage Filipino girl who dreams  of becoming a country music star in America. She sports a cowboy hat and skips doing homework to write melodies in her bedroom. "I never fit in,"  sings Rose, who lives a guarded existence with her conservative Filipino mother Priscilla (Princess Punzalan) in a small town in Texas.
Rose isn't aware that she and her mother are undocumented migrants and that her mother's protectiveness towards her stems from a constant fear of being detected by the U.S. Immigration and Customs Enforcement (ICE).
Rose catches the eye of guitar store employee Elliot (Liam Booth) and agrees to go with him on a trip to Austin, the capital city.  They gallivant through its downtown streets, and with a fake I.D., experience the nightlife for the first time, drinking and boot-scootin' at the Broken Spoke, the iconic country music dancehall.
But the young misfit's world is shaken when she returns to the roadside motel where she and her mother have been staying. While in the parking lot, she sees uniformed men burst through their door.  She witnesses her nanay being arrested  by ICE agents. Only then does she realize that they are undocumented.
Rose is forced to flee. She follows her mother's instruction to seek refuge in  the home of her Tita Gail (Lea Salonga). Her  well-heeled aunt welcomes her, but  her aunt's cold Caucasian husband views  her as a threat to their comfortable life. Rose decides to find her own way after a brief stay. She also tries to determine her mother's whereabouts, even as she feared being deported herself.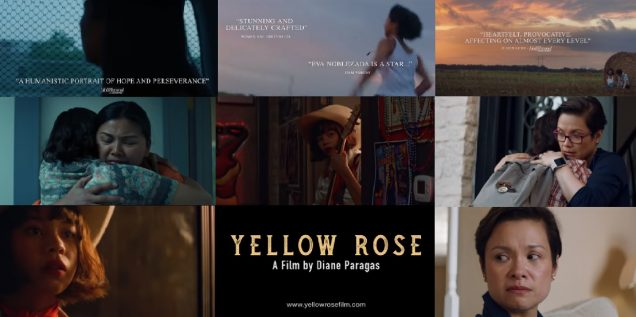 Yellow Rose is the Filipino-American filmmaker's response to the harsh reality of 21st Century America's anti-immigrant policies.
Written, directed, and produced by Diane Paragas, the film is sketched from her "deeply personal" experience of leaving the Philippines and growing up in Lubbock, Texas.
"My hope is that Yellow Rose puts a human face on the plight of Dreamers, while entertaining the audience with original Americana music that they might not have listened to before," says Paradas in her film statement. Dreamers are young undocumented immigrants who were brought by their parents or arrived in the U.S. as children.
The film's supporting cast reflect the similarities in the fearful existence lived  by undocumented migrants from other ethnicities. We see how the film's Hispanic characters,  including motel worker Cecilia (Sandy Avila) and Rose's co-worker Jose (Gustavo Gomez) suffer the same fate as our protagonists.
On the other hand, the White cast seem  too good to be true. Rose's love interest Elliot offers comic relief; honkytonky bar owner Jolene (Libby Villari) provides Rose with shelter; Rose finds the perfect hideaway in the  backyard trailer of old-country style author Dale Watson (as himself). Through the veteran country star, Rose finds her own voice and emerges as a budding country singer-songwriter, who just  happens to be a Filipina.
The music for Yellow Rose was largely composed by Dale Watson in collaboration with Paragas, Noblezada and Thia Megia. With Sony Pictures acquiring rights for its distribution worldwide, excluding the Philippines, a soundtrack is also slated for its Spring 2020 release.
Yellow Rose  tugs the heartstrings achingly, but beautifully. Despite its  very limited budget and 19-day shoot schedule in Austin, the Live Music Capital of the World, Paragas's 15-year-in-the-making debut film assures or hopes that conversations about the difficult issues it raises will continue beyond the screen.
Yellow Rose
Director: Diane Paragas; story: Andy Bienen, Celena Cipriaso; screenplay: Diane Paragas, Annie J. Howell; cinematographer: August Thurmer; editors: Taylor Levy, Liron Reiter; production design: George Morrow; Music: Christopher H. Knight; producers: Diane Paragas, Orian Williams, Cecilia Mejia, Ray Cuerdo. Running time: 94 minutes.
Starring: Eva Noblezada, Lea Salonga, Gustavo Gomez, Dale Watson, Princess Punzalan, Liam Booth, Libby Villari.