Diverse workers speak out in Ottawa for int'l migrants assembly
Diverse workers speak out in Ottawa for int'l migrants assembly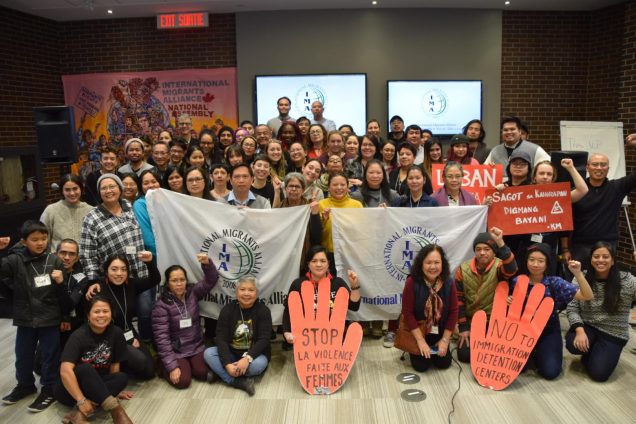 By Ysh Cabana
The philippine Reporter
OTTAWA–Roksana Hajrizi, 26, describes herself as a "stateless Roma refugee from the former Yugoslavia" who fears she, her sister and mother Celina Urbanowicz are at risk of deportation and family separation anytime soon.
She fled with her family from war-torn Yugoslavia and sought refuge protection in Canada in 1997. Her family tried to obtain legal status but unfortunately there was a lawyer's negligence" on their files. In June 2019, her father Ismet, a Muslim of Serbian-origin, was deported to Kosovo.
"My house is no longer a home, as you could all imagine," she adds addressing a crowd at the Public Service Alliance of Canada headquarters where the International Migrants Alliance (IMA)-Canada chapter assembly was taking place Sunday, December 1.
"Canada recognized our genocide just last year. Roma people are not widely known and we are badly stereotyped," says the "proud lesbian" Hajrizi. Romas are not welcome in most places, she says, and being queer even less so.
"I cannot even marry my fiancée that I've been with for several years. Alot of the times I feel that I'm unwanted. I truly belive, my whole life is just like a file on somebody's desk," she adds. "With or without status, my family is Canadian. Families belong together."
IMA-Canada says Hajrizi's case highlights the system of displacement and redivision in society that brings migrants, refugees and displaced peoples abroad only to experience further exploitation in Canada. It is one of a number of campaigns being led by organized workers and  presented in a panel called "Workers Speak Out" attended by more than a hundred participants representing diverse organizations from Cameroon, Haiti, Nicaragua, Guatemala, El Salvador, Colombia, Japan, Vietnam, Indonesia, and the Philippines.
'Reclaim, proclaim, amplify, reach out'
Tess Tesalona, coordinator with the alliance, says migrant workers remain left behind although they are supposed to be the "modern heroes" and "the tools for development"
"Mainly the challenge for us is we are grassroots organizations–we advocate for ourselves, we work for our casework, we work to meet up with the government and agencies, we also go out to the street. We have all of these work upon our shoulder," says Tesalona.
The founding assembly of the IMA in 2008 was an idea that had been years in the making. The goal was to address and organize around the crisis of millions of workers who are forced to leave their countries as a result of neoliberal policies drawn up by international financial institutions such as the World Trade Organization (WTO), World Bank (WB), International Monetary Fund (IMF), and Organisation for Economic Co-operation and Development (OECD) backed by U.S. imperialism. The Alliance has as its premise an anti-imperialist view on issues of migrant workers, refugees and displaced peoples.
People's organizations and migrant groups including IMA initiated the International Assembly of Migrants and Refugees (IAMR) as the alternative forum for projecting a more critical stance on Global Forum on Migration and Development's (GMFD) point of view on migration and development. The high-level UN summit aims to address large movements of refugees and migrants, and to find a more humane and coordinated approach for member countries to back.
"Every year where the GFMD goes, we go. We organize a counter-conference so that we can have our demands heard by us, for us," shares Tesalona. "We have to reclaim our voices, bring back our militancy. Everywhere we go, we need to tell our stories."
The first IAMR was held in Manila coincided with the October 2008 GMFD, the second IAMR in Athens, Greece coincided with the November 2009 GMFD, the third IAMR in Mexico City occurred with the people's caravan of Central American migrants in 2010.
"We need to proclaim, we are the backbone of migrant struggle in Canada. We have won cases to prove it. We have to amplify our voices. Lastly, we need to reach out," says Tesalona.
IMA-Canada's 2019 assembly had regional coordinators elected at-large: namely, Rudy Fernando Alvarez Vasquez of Migrant Workers Association of Quebec, Diana of Temporary Agency Workers Association, Mary Jane de Guzman of Migrante Ottawa, and Kota Kimura of Toronto-based Migrants Resource Centre Canada.
International migrants send back home $689 billion
The International Organization for Migration noted that there were about 272 million migrants globally in 2019, continuing an upward trend of 51 million in all regions since 2010.
According to IOM's Global Migration Report 2020, more than half of all international migrants (141 million) live in Europe and North America and send back home $689 billion in 2018, with the top beneficiaries being India ($78.6 billion), China ($67.4 billion), Mexico ($35.7 billion) and the Philippines ($34 billion).
Among the key drivers of migration from the Philippines is the impact of climate and weather disasters. An estimated number of 3.8 million people were newly displaced there at the end of 2018, the largest number globally.
The Philippine government estimates the number of overseas Filipino workers at 12 million, accounting for one-tenth of the country's population.
Marisol Bobadilla, initially working in Prince Edward Island in 2012, was lured to move to Ontario with a promise of a permanent residency. She was offered a job as a mushroom farm worker being paid by how much produce picked, not by how much time spent working.
"We didn't want to leave the Philippines but because there's no jobs back home, we decided to find good opportunity abroad," says Bobadilla at the IMA-Canada assembly.
"We experienced a lot of hardship. Picking mushrooms was a very dangerous and unsafe job here. No Canadian citizen wanted to become a mushroom picker because it's slippery, cold, you earn a small amount of money."
She is one of the Filipino migrant workers who are suing a recruiting agency over their mistreatment on the job. The group that formed "Justice for Mushroom 4, Justice for all migrant workers" which includes Maila Ceguerra, Jesse Veneranda, and Lourdes de la Peña also call for stronger labour protections in Ontario.
"Through this campaign we hope to educate our felliow migrant workers to learn and fight for their rights and to learn the root cause of migration," says de la Peña.