FILM REVIEW: Kaaway sa Sulod: Part thriller, part drama, dark, unnerving
FILM REVIEW: Kaaway sa Sulod: Part thriller, part drama, dark, unnerving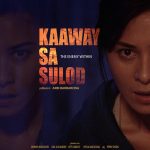 Kaaway sa Sulod (Enemy Within) [2019]
By Ysh Cabana
The Philippine Reporter
Writer-director Arbi Barbarona brought an acutely significant vision to bear on stories of conflict in his native island of Mindanao. His 2017 debut full-length, which won Best Picture in Sinag Maynila 2017 and awarded 1st Place Grand Jury Prize in FAMAS 2018, Tu Pug Imatuy (The Right to Kill) concerned the virtue of violence from the vantage point of the oppressed.
Kaaway sa Sulod opens with layers of camerawork and cutaways that literally flip your views with "speed, secrecy and surprise." As laid out by Barbarona's heroine, the world is governed by opposites.
Barbarona's follow up takes on the theme of duality, an examination of things that are so very similar in appearance but vastly different in essence. His sophomore feature stars Dionne Monsanto who plays the roles of two women irresolvably, but mysteriously connected in a brief encounter.
One is Nash Bautista, a university teacher-turned-guerrilla fighter with the NPA (New People's Army) in the mountains of Mindanao, who took on the alias Ka Lai. She is dogged by her doppelgänger Lt. Raiza Umali, a seemingly reasonable ranking officer assigned to a mission to protect a businessman. Raiza learns their team is to shelter senior militaryman Rapatan (Perry Dizon), a retired AFP (Armed Forces of the Philippines) general known as "The Butcher," kept in hiding for the murder of activists. When they subdue the attacking squad, the military figures one of the NPA leaders resembles her. Everyone was stunned that the two women looked exactly like each other.
Increasingly frayed and troubled by this discovery, Raiza eventually attempts to engage Nash/Lai and when they finally meet face to face, the two women—already suffering from their struggles—become bizarrely connected and dangerously conjoined. Is one a somehow-connected other half? Are they lost siblings?
Superior Capt. Nunez (Dax Alejandro) concocts further a plan to infiltrate the rebel group by switching the look-alike characters' places. Then the lieutenant realizes the practical limits of her association and makes a choice with fatal consequences.
The two entities, of the NPA and the AFP, match the experience of the other side, being engaged in armed struggle. The film singles out and separates as it tries to make sense of their social ties; in other words, the problem of being apart when one is always a part. As a statement, it serves a reminder how people as a political subject comes up against themselves. Thus the title, Enemy Within, is a metaphor of the belligerent forces in Philippine society and revolution.
Dionne Monsanto delivers lines with conviction. Her shift in idiolect, or the specific way of one speaks with distinct pronunciation and regional identity, is commendable as an acting technique to distinguish between the character portrayals. Indie regular Perry Dizon helms the film's production design. Screenwriter Arnel Mardoquio is also credited as producer together with Arbi Barbarona doing principal photography and editing of masterful meticulousness.
Part psycho thriller, part existentialist action drama, like Barbarona's earlier film, it is exceptionally dark and enigmatically unnerving. A profound, sometimes abstract piece of work, it doesn't reveal itself easily with its weighty theme.
Kaaway sa Sulod certifies Barbarona as one of the most exciting new voices in Philippine cinema today. More importantly, it brings to the fore corruption in the military establishment and the need for peace negotiations from the perspective of a Mindanaoan.
Kaaway sa Sulod
Director: Arbi Barbarona; writer: Arnel Mardoquio; production designer: Perry Dizon; cinematographers: Arbi Barbarona, Bryan Jimenez; drone operator: Dan Calderon; musical score: Teresa Barrozo; editor: Arnel Barbarona; producers: Arnel Barbarona, Perry Dizon, Dionne Monsanto, Ethel Mendez, Arnel Mardoquio. Rating: R16. In Tagalog, Bisaya and English, with English subtitles. Running time: 103 mins.
Starring: Dionne Monsanto, Perry Dizon, Dax Alejandro, Jeff Sabayle, Nor Heela Macusang.