Team work, hard work, superb talents
Team work, hard work, superb talents
BoniFest 2019 Acknowledgements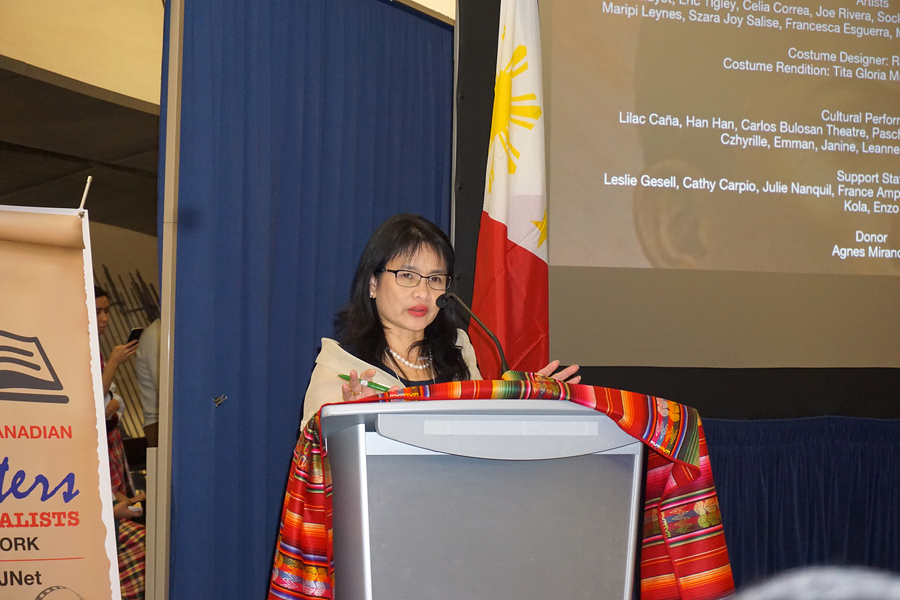 By Veronica Silva Cusi
Team work, hard work, superb talent — the ingredients that make BoniFest a success (from the organizer's perspective)
Toronto recently experienced the first cultural festival that paid tribute to Andres Bonifacio, the national hero who started the Philippine revolution against more than 300 years of Spanish colonial rule.

The first Bonifacio Festival held last November 17 was not the typical cultural festival that Toronto's Filipino community was used to. It was a day rich in culture indeed, but sans the pomp and pageantry. Instead, through a carefully laid out plan that took months to conceptualize and execute, Torontonians, including young (aka millennials), Filipino-Canadians learned Philippine history and culture through a day of lectures, prose reading, oral presentations, dance and a talk by a renowned Filipino journalist who came all the way from the Philippines.
The event would not have been a success without teams of hard working professionals, colleagues and volunteers, and talented individuals who stepped up to the plate.
At the helm of BoniFest was the Filipino-Canadian Writers & Journalists Network (FC-WJNet), a network of professionals in literature, arts and media. They worked together with PLUMA, a writers collective, of literary talents.
FC-WJNet worked together with the National Ethnic Press and Media Council of Canada (NEPMCC) for the venue and logistics support. Special mention also goes to Carlos Bulosan Theatre for helping sponsor the venue logistics.
As soon as the idea for the festival was agreed upon, a preparatory committee was organized to start the ball rolling.
The impromptu committee was co-coordinated by Veronica Silva Cusi, freelance journalist, and Mila Astorga-Garcia, managing editor of The Philippine Reporter. Veronica and Mila worked with colleagues to put together various elements of the festival.
But in particular, the two de facto co-chairs helped identify the venue and logistics, establish partnerships, and coordinate almost everything with peers in the professions. "Almost" because members of the committee worked on a lot of the aspects of the festival spontaneously — as if everyone's on the same page even without prodding.
The members of the preparatory committee included: The Philippine Reporter publisher Hermie Garcia and educator Ricky Esguerra who put together the concept paper and helped find ways and means to ensure that the concept materializes.
Ysh Cabana went right way to conceptualize and produce the publicity posters in print and on social media channels such as Facebook and EventBrite. He also helped co-ordinate the art exhibit.
Lui Queaño, Akdaan editor, co-wrote the script for the skit, and ably worked with talents to provide the musical accompaniment in the festival.
Editor Patty Rivera painstakingly drafted and revised the day's program to its final execution and coordinated media publicity with multi-awarded journalist Marites Sison, who was also the moderator for the journalism lecture.
PLUMA members Jennilee Austria and Nastasha Alli co-ordinated the book fair and worked with their members for prose readings. They also co-ordinated the art exhibit with the talented artists.
Educator Eric Tigley coached the young students of the St Paschal school who performed a Balagtasan. He also lent crucial AV support along with Ysh and Lui.
And finally Carlos Bulosan Theatre's Leon Aureus Jr worked with Lui Queano on writing the script. He also directed the jaw-dropping skit that capped the day's events.
All those planning would have gone to waste without the superb talents that make any Filipino proud, wherever they are.
Thank you to the creative people who shared their talents that day.
The visual artists, including some in the preparatory committee, who shared their obra maestra with the participants that day.
Ed Muyot, Eric Tigley, Celia Correa, Joe Rivera, Socky Pitargue, Ysh Cabana, Katrina Canedo, Maripi Leynes, Szara Joy Salise, Francesca Esguerra, Michelle Chermaine Ramos, Kalayaan Garcia and Julie Urban.
All in all, there were more than 20 artworks featured that day (See The Philippine Reporter's December 6-19, 2019 issue).
The readers included PLUMA and FCW-JNet authors, some of them members of the preparatory committee.
Gelaine Santiago Tan, read a memoir called "Pilgrimage" about her complicated and at times uncomfortable journey of becoming reacquainted with her family in the Philippines.
Yves Lamson read a short essay called "What's a Filipino?" about the need for identity awareness and addressed the issue of "not Filipino enough" shaming within our homes.
Ysh Cabana shared "CMYK," a poem relating Bonifacio's working-class roots to Cabana's own yearning to write while working at a local printing press.
Mila Astorga-Garcia read an article from a journalism anthology called Press Freedom Under Siege, which chronicled the Chico River Dam Project and the murder of opposing tribe leader Macli-ing Dulag.
Justine Abigail Yu, founder and editor-in-chief of Living Hyphen magazine, read her essay called "What is a homeland without a home?" inspired by her extended family's residence in the Philippines that is becoming abandoned in their dream to migrate to Canada.
Lui Queaño also read a poem called Ang Mga Walang Pangalan [Those Who Are Nameless] by Jose F. Lacaba, about the nameless men and women who stood against the Marcos dictatorship during the 1986 EDSA People's Revolution.
Alia Rasul, Bad Dog Theatre inclusion director, Kwento director and Tita Collective comedian shared scenes from her play, "Tang Ina."
The Marshal McLuhan team: Our speaker, Patricia Evangelista of Rappler and Carlo Figueroa of the Canadian Embassy in the Philippines.
The awesome cultural performers: Soprano Lilac Caña who sang two songs accompanied by Lui Queano Jr in the guitar — "Pag-Ibig sa Tinubuang Lupa" by Andres Bonifacio, and Bayan Ko.
Han Han, a registered nurse by day and rapper when off duty, and colleagues performed two new tracks from her upcoming album Urduja: "Babae Ka" and "Kuyaw (Hala Ka)"; Carlos Bulosan Theatre, with actors Aisha Kaalim of Anakbayan who played Gregoria de Jesus; Garnet Santicruz who played Andres Bonifacio; Marie Sotto who played Tandang Sora; Rick Esguerra who played Fr.Mariano Gil; JC Bonifacio who played a Katipunero; Yves Lamson who played Emilio Jacinto; and Ed Muyot who played the tortured Katipunero.
The St. Paschal Youth students: Aaron, Alexa, Ashley, Beatrice, Czhyrille, Emman, Janine, Leanne, Mariel, Meghan and Paul.
Special thanks to the parents and guardians who supported these youths and brought them to the festival.
The skilled and talented people behind the costumes: RJ Esguerra, who designed some of the costumes, and Tita Gloria Montesclaros and daughter Divine, who helped sew the costumes.
All these are coordinated by the backbone of the festival — the support staff, including those who helped out with the food logistics: Leslie Copada-Gesell, lead of the registration team and food donor; France Ampioco, Julie Nanquil, Catherine Cusi, Ellen Queaño and kids Yumi, Kola and Enzo, Norman Garcia and food donor Agnes Miranda.
Special thanks also go to Dr. Philip Kelly, York University professor for printing the posters and coming to attend.
Words are not enough to express how much the preparatory committee thanks these people and their friends and family for their contribution to make BoniFest a success.
—————————
See related stories:
BoniFest art, book festival draws proud, excited crowd By Althea Manasan
2019 McLuhan Fellow Patricia Evangelista: My job is 'keeping the record straight' By Althea Manasan
NOTEBOOK: Why Andres Bonifacio Festival? By Hermie Garcia
Risks are higher for rural journalists (Q & A with Patricia Evangelista)
The Artists and Their Artworks at the BoniFest 2019 Art Exhibit (Photos from M. Ramos and Y. Cabana)
BoniFest 2019 Books and Writings on display