Younger and More Beautiful @ 90
Younger and More Beautiful @ 90
By Corito Fiel
This was, we children had decided for her, something that will be out of her hands for once. Our mother, always clucking over us like a take-charge mother hen, always wanting to draw us beneath her protective wing, looked worried as we told her what would be afoot on her birthday.
"We are planning a party for you, Mommy." No, tayo-tayo na lang. Dinner out, my treat, she objected. No, let us, we insisted. "You deserve a really grand birthday party, Mom!"
So, last November 22, 2019, Cecilia C. Fiel, turning a feisty 90 years young, stepped into the Crystal Grand Banquet Hall in Mississauga, looking radiantly beautiful in a delicately embroidered ivory frock, which daughter Rose F. Nakpil chose from Laura at Square One. Another daughter, Peachy, brought along a pretty, fluffy baby pink stole to keep her warm throughout the wintry night.
Friends of the youngest daughter, Lelo, had pitched in to help to make Mommy's birthday very special. Maila Angela Tirados, creative artist, designed the lovely floral table centrepieces and the lavender butterfly cutouts, each with a cookie inside. Maila also baked what was the queen of the Sweets Table – delicious Brazos de Mercedes in Cups.
Lina Lim Gallo, event planner who worked with Westin Hotel in Chicago and the Four Points by Sheraton in Toronto, nailed down all the big and little details with Crystal Grand Banquet Hall Manager, Karen Margayran. Ellie and Lee Palattao, brought the huge banner with Mom's photos, all the way from Manila. Our sister-in-law, Marinet Leyesa, had a lovely surprise for Mommy – the pianist Alexander Zlotnik.
Mr. Zlotnik serenaded Mommy, who studied piano and music at St. Scholastica's  College, Manila, with her favourite Cole Porter and Sinatra songs, like her theme song with Daddy (the late Charlie Fiel), "Stardust" and played "Kung Di Rin Lang" from the monster hit movie, "Hello, Love, Goodbye."
Marinet also hired Mr. Sindhu's 6iX Photobooth, amusing guests, especially the little ones, titillated by the "boomerang photos."Many kept coming back for more fun pictures.
Of course, there was lechon from B's Sizzling Kitchen. And as all lechon go in Filipino parties everywhere in the world, "nakalbo kaagad!" Stripped and pared down to the bones in no time! "Super delicious kasi!" raved guest Mila Magno.
Our little family, some living far from hearth and home in Canada, had gathered to celebrate Mom's 90th. Rose and her husband Paquito A. Nakpil, now empty nesters, were happy to have their children at home for the occasion. Their daughter Karla N. Chin, now living in New Jersey and working at Exude, a Philadelphia-based consulting firm specializing in employee benefits and wellness, brought along her husband Jeffrey Chin, father-in-law Ben, and daughters Karina (7) and Jules (2).
Karla's brother, Gio Nakpil, Art Director for Facebook Oculus, flew in from San Francisco.
Mommy was also happy that Lelo's best bud, JoAnne Sen came all the way from Manila to be with us. JoAnne brought along Gen Tamayo, also from San Francisco.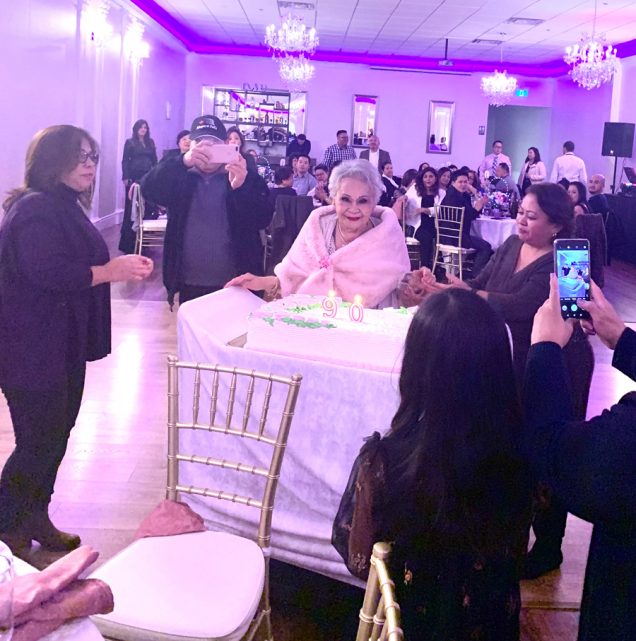 And best of all, our only surviving brother Bobit, whom we had not seen since the 1990s, was there, with us, for Mommy. He was with his wife, the former Mel Sanchez of Mexico, Pampanga, and their son Mikey, who gave the prayer before meals and implored the good Lord: "Make this a night that will be memorable in our hearts."
For Mikey, a rather unforgettable visit. This was the first time ever this 13-year-old California boy met his Mita, his grandmother, his Lola – and his four Titas from Canada – Rose, Peachy, Lelo, and Corito (moi).
In her testimonial, Karla spoke of her grandmother's "perfect balance" of strength and confidence, love and beauty, her generosity and her sense of fun. Gio remembered when he was five or six years old and there was his Mita hovering over his shoulder as he took pencil to paper, drawing Michelangelo's David.
"Mita fully supported the growing artist in me," he recalled. It was my Mom who bought him his first Voltes V robot at the princely sum of Php800 at the old Cash & Carry. Little Gio looked at his Mita with sad, puppy eyes. Mom just had to buy it and unknowingly launched his fruitful computer graphics career in the years down the road.
For Peachy's 23-year-old son Carlos Fiel, a Chemical Engineering student at University of Toronto, it was his Mita, who gave him $20 as his first ever allowance, telling him, "Money can't buy you happiness, but it surely gets you shopping."
After  the short, heartwarming speeches, as DJ Neil tuned up the music, the little tots, waving toy lighted wands, rushed to hop and bop to the beat of Pharell Williams' "Happy". Tiny Jules battled it out with toddler Pelegrín cousins Megan, Aislyn, Riri, and JJ Trinidad, Lialey and Liam Feliciano. An impressed Uncle Bobit went toe-to-toe with Karina Chin, who told him to "just follow me!" not recognizing her as his niece Karla's daughter!
As the night wore on, DJ Neil churned out Swing music that got papas and mamas, titos and titas trip the light fantastic. Wilfred Valdez was quite the suave gentleman cutting the rug. Faye Arellano and husband Nestor, Toronto dentist Dr. Ana Marcelo, and ballroom dancing aficionado Tet P. Feliciano and husband Vic, Rose and Boy O' Bien, expertly swung, twirled, and swayed to the music that defined their generation. Ricky Caluen gave it all he got and got a vigorous workout. Even Maripi Leynes who "never goes dancing" got into the spirit and joined the fun!
Mom's orig St. Scho Toronto Christmas Carolling barkada were in full force, some bringing along their better halves. They haven't all seen each other for quite a long while. Coming all the way from such points as Scarborough, Markham, Thornhill, Toronto were Emy and Arthur Telesforo, Boots and Justin Montano, Camille and Jan Nawokowski, Mila and Os Magno, Marimon Montinola-Periquet, Piat Crisologo-Allison, Gwen Flor, and Elsie Arao.
Mom was glowing and beautiful and so very happy. But we children never forgot to include our father in this most joyful night. As guests said their goodbyes and piled out the Crystal Grand, we handed out little Rosaries in silky pouches.
Dad would have loved that. It was Peachy's idea. Ingenious.