STATEMENT: International Migrants Alliance on the International Migrants Day
STATEMENT: International Migrants Alliance on the International Migrants Day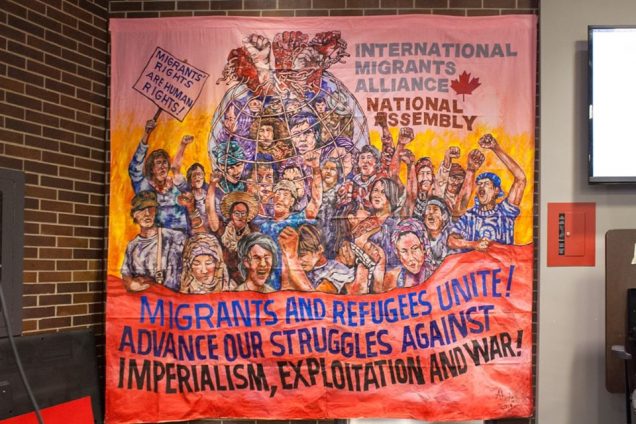 On 18 December 1990, the United Nation General Assembly adopted a resolution on the International Convention on the Protection of the Rights of All Migrant Workers and Members of Their Families. It has been 29 years and Canada has yet to ratify the resolution.
There are now close to 300 million displaced peoples worldwide driven most recently by the imperialist proxy wars in Syria and across Southwest Asia and North Africa creating death and destruction and millions more violently displaced people and refugees throughout the region.
Refugees of the worsening climate crisis in the hardest hit regions of the developing world along with the economic migrants from the region are massively growing. Imperialist and migrant receiving countries led by the United Nations address the migrant crisis to call for a new "Global Compact on Migration" or GCM to promoting "safe, regular, and orderly" migration.This so-called "protection" primarily caters to the interests and needs of the imperialist and first world countries (for safety, order, and regularity), instead of being shaped by the needs and demands of the migrants themselves. Imperialist states and mega-corporations, meanwhile, benefit from the continuous supply of cheap and skilled migrant labor that businesses maximize for profit-making either through the exploitation of their migrant labor or by exploiting them to keep the wages of local workers nailed to the floor. This fans anti-migrant and anti-immigrant sentiments that serve the purpose of sowing disunity among all working people.
In the receiving countries, A wave of right wing fascism and racism are on the rise with blatant attacks in Europe and North America. In Canada the number of reported hate crimes reached an all-time high with Ontario and Quebec having the largest increase in number of incidents.
On December 1, 2019, migrant workers and grassroots migrant organizations across Canada gathered in Ottawa for the first National Assembly of International Migrants Alliance (IMA) Canada. With the theme of "Migrants and refugees unite! Advance our struggles against imperialism, exploitation, and war!", the assembly was attended by over 70 participants representing 28 organizations from Montreal, Ottawa, Toronto, Edmonton, and Vancouver.
Anna Robelo, the keynote speaker and a member of the International Coordinating Body of IMA, as well as the national secretariat of IMA USA, opened the assembly by highlighting the importance of grassroots organizing as the alternative to the imperialist-led UN Global Forum on Migration and Development (GFMD): "As IMA, we do not simply want to gain a seat at the table with our oppressors and those who claim to represent us, or win small and temporary protections. We are working towards creating a world where nobody is forced to migrate."
The assembly featured a panel of migrants and workers speaking out about their struggles. Roksana Hajirizi shared her family's struggle to remain in Canada.. The Hajirizi family arrived in British Columbia 23 years ago fleeing the devastation of the NATO-led War on Yugoslavia that displaced more than 100,000 Roma. However, the family's lawyers' negligence led to a loss of their refugee status and issuance of a deportation order against them. Hajirizi believes that her family's displacement from Yugoslavia and persistent anti-Roma racism worldwide are also causing their hardship: "A lot of time I feel I'm unwanted. My whole life is like a file on someone's desk." She urged the participants to demand the federal government to halt the deportation order and grant them Canadian citizenship.
Marisol Bobadilla and Lourdes De la Pena from Justice for Mushroom 4 talked about their struggle against abusive employers and unscrupulous recruitment agencies who cheat migrant workers for profit. They recounted working long hours in an inhospitable mushroom farm and having to live in an overcrowded house. Their agency promised them permanent residency, yet they became undocumented after 3 years of performing backbreaking labour and paying the agency exorbitant fees out of meagre pay that left them in a slavery like condition. "Temporary foreign workers are treated like garbage and disposable…We have to speak, we have to fight for our rights." They expressed their determination to fight not only for their rights, but those of all migrant workers and educate them about the root cause of mass migration,
Tess Tesalona summarized the last 10 years of IMA and urged the participants to carry the struggle forward: "Every year where GFMD go, we go. We organized counter-conference so we can have our demands heard by us, for us…We have to reclaim our voices, bring back our militancy. Everywhere we go, we need to tell our story…Let's not let others do the talking and claim the victory. We are the backbone of migrant struggle in Canada."
"While International Migrants Day was initiated by the United Nations, the GFMD has demonstrated that its purpose is to legitimize and naturalize mass migration, not to address its root cause and empower those displaced.. Commemorating IMD must include the strengthening of the organizations and alliances of migrants and refugees in order for them to take their place in the struggle against the system of exploitation, displacement and war perpetrated by the worst imperialist plunderers," said Viviana Medina, the elected representative for the International Coordinating Body. She is based in Montreal. "In Canada, migrants, refugees and other displaced peoples are pushing back against precarity and exploitation, and demanding their basic human rights be honoured." Medina added.