The Fabulous Lost and Found
The Fabulous Lost and Found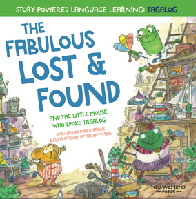 and the little mouse who spoke Tagalog
By Mark Pallis and Peter Baynton
Published by Neu Westend Press, January 15th 2020, 36 pages.
"In the middle of the big city is a tiny yellow building. If anyone loses anything, this is where it ends up. It's called the Lost and Found."
The owners, Mr and Mrs Frog, keep everything safe, hoping that some day every lost watch and bag and phone and toy and shoe and cheese grater will find its owner again. The shop is very small and there are so many lost things. It's all quite a squeeze, but still, it's fabulous."
One sunny day, a mouse walked in. "Welcome," said Mrs Frog. "What have you lost?" But the little mouse could only speak Tagalog. And Mr and Mrs Frog had no idea what she was saying.
Had she lost an umbrella…? Or a chunk of cheese? Or a coat… or a scarf? Maybe it was a banana? Or a computer? Or a bicycle? Or a wig, perhaps? Before long, Mr and Mrs Frog have rattled off half of their inventory – and translated it along the way – before they solve the riddle.
Aimed at children aged 2-7, The Fabulous Lost and Found is children's language
learning book like no other. It is the first in a series of books using the "Storypowered language learning" method. Inspired by the latest research in children's language acquisition, Author Mark Pallis believes that a child's first steps in a new language should be a riotously fun experience. His charming story teaches children more than just words, it builds empathy and helps lay the foundation for a lifelong love of language. And it is all brought to life through beautiful illustrations by the award-winning animator Peter Baynton.
For further information please contact neuwestendpress@gmail.com
(PRESS RELEASE)
About the author and illustrator
Mark Pallis is a lifelong lover of language. He was originally a lawyer but switched to the creative sector and devised the award winning BBC TV drama Garrow's Law and served as Story Editor over its three series. Since then, Mark built up 15 years' experience in communication, branding and storytelling, including as Creative Director of a busy London ad agency, writing episodes for the Daytime Emmy winning Tales of Peter Rabbit and sitting on the Executive Committee of the Children's Media Foundation. He is represented by the BKS Agency and his first children's book 'Crab and Whale' has been translated into five languages. He lives with his wife and two young children.
Peter Baynton is an animator, director and illustrator based in London. He is the Animation Director of the UK's Channel 4's new 2019 Christmas film, The Tiger Who Came To Tea, adapt from Judith Kerr's classic book. He has been directing short films, music videos and commercials for twelve years, picking up over 25 awards at film festivals around the world along the way. He has also worked as a storyboard artist on the BAFTA winning CBeebies show Sarah & Duck, and in 2017 was the 2D Animation Director for Paddington 2. This year he decided to pursue a longheld desire to illustrate a children's book, and was enchanted by Mark's manuscript for The Fabulous Lost and Found.