Film Review: Still Human (2018): The healing power of empathy
Film Review: Still Human (2018): The healing power of empathy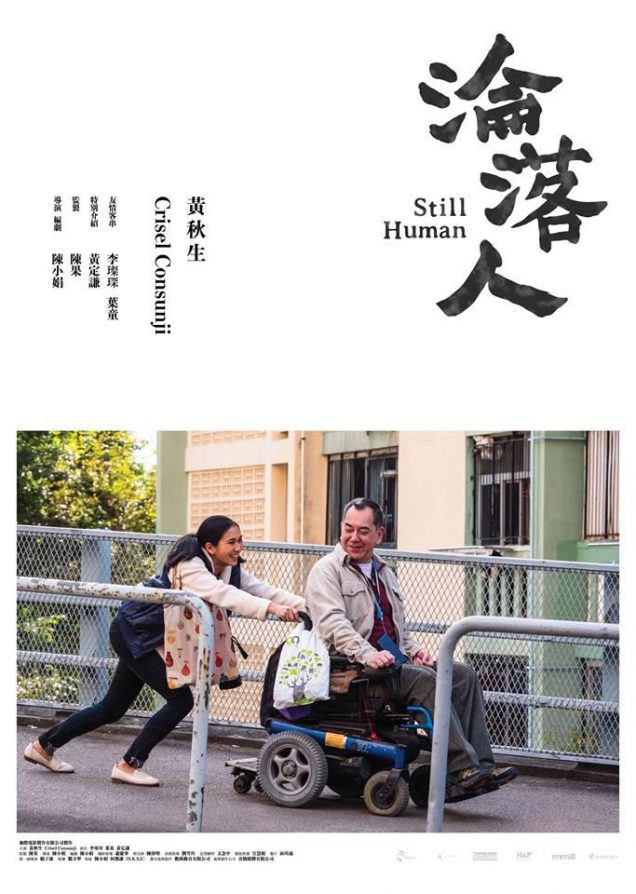 By Ysh Cabana
The Philippine Reporter
Still Human is an earnest reminder of the healing power of empathy, which is what connects humans to other persons. But at a deeper sense of meaning, it is a uncompromising look at the conditions of the people in the margins of a modern city, estranged from themselves as a consequence of living in class society.
The title refers to both characters: the drastically disabled master, who essentially is shut away from society; and the immigrant, part of a group with whom the country's natives have, at best, an ambivalent relationship.
The pallid pensioner Leung Cheong-wing (Anthony Wong) is paralyzed from the neck down as a result of a construction site accident years prior. Given his condition he is confined in a public housing flat living alone. He only video chats occasionally with his son who is studying abroad. The severity of Cheong-wing's injuries and calls for in-home caretaker who can assist with eating, bathing and getting around after the immediate departure of his former maid.
His friendly former colleague, Fai (Sam Lee Chan-sum) helps him hire a new domestic helper and recruits newcomer Evelyn Santos (Crisel Consunji), a one-time nurse from the Philippines.
The two get off to a rocky start. While she is sweet and naïve, he has gruff manners and cynical. Cheong-wing discovers his careworker doesn't speak Cantonese, and Evelyn learns how to pretend to be dumb in front of him as advised by her already jaded veteran overseas workers so as not to be laid off. She continues to endure his xenophobic discrimination and malcontent. As the two learn to communicate with each other, despite the gap in language, age, gender, and social status, they find that they have a lot in common. That both of them have storied past allow each to both drop their safeguards.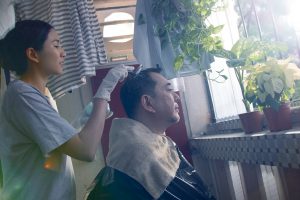 Her warm and winning personality convinced Cheong-wing that she is a good person. In one instance, Evelyn declares "you can't choose not to be in a wheelchair, but you can choose how to sit in it." She also begins to understand that he needs not only physical help but someone to cheer him up since being divorced from his wife, who has moved abroad with their teenage son (Himmy Wong Ting-him)
Things turn around once he heard of the caregiver's artistic ambition of becoming a photographer. Cheong-wing easily becomes the paternal figure and commits to helping her achieve it all knowing her eventual success could possibly take her away from him.
But even with the film's good intentions and vivid picture of the two main characters grounded in real world context, the script has its limits. It opts to portray the benevolent boss trope. Disability is part of the human experience, and the exploitative character of employer-employee relationship is nuanced in this case. The woman economic migrant is only to become a fully actualized human being—thanks to the altruism of a man, who happens to be paraplegic. Since she is happy in wage labor, she will keep working for the employer even after getting social freedom, right? How many domestics would have the chance of having such circumstance?
Still Human has been rolling out at selected festivals since it premiered internationally in 2018. Born and raised in the Philippines, Crisel Consunji is the first Filipino to be nominated for and to win Best New Performer, and the first to be nominated for Best Actress at the Hong Kong Film Awards.
Still Human
Director-writer: Oliver Siu Kuen Chan; producer: Fruit Chan; cinematographer: Derek Siu; editor: Oliver Siu Kuen Chan, Wilson Chun-Him Ho; art director: Connie Suet-Kwan Lau; costume designer: Colla Ng, Lim Chung Man; music: Austin Chau; Cantonese, English, Filipino with English subtitles. Starring: Anthony Wong, Crisel Consunji, Sam Lee, Cecilia Yip