Pinoy Canadians help Taal evacuees with funds, goods
Pinoy Canadians help Taal evacuees with funds, goods
By Marites N. Sison
As soon as they heard the news that Taal Volcano erupted January 12, Filipino-Canadians across Canada sprung into action to raise money and accept donations for nearly 25,000 people who have been evacuated so far.
With a hazardous eruption possible "within hours or days," and with continuing earthquakes and spewing of red-hot lava and ash, it is estimated that as many as 200,000 people will eventually have to be evacuated. The last time Taal Volcano erupted was 42 years ago, October 1977.
For some Filipinos who have made Canada their home or are here as migrant workers, the need to respond to the disaster was personal.
From Toronto, Maricel Vito Cadorna, president of the Lemery Club of Toronto, had to coordinate the evacuation of her 87-year-old mother, Sofia Vito, from Lemery, Batangas, to Lobo, Batangas — a distance of 58.71 miles.
"Tumawag ako ng tricycle para sa aking Inay, pamangkin at caregiver. Ang tagal nilang binaybay ang daan,"  said Cadorna, who came back to Toronto January 7, after spending Christmas with her mother.  Fissures and cracks resulting from the volcanic eruption have hampered evacuation efforts in affected areas, including Lemery, Talisay and San Agoncillo, Batangas.
For days, Cadorna said she was numb with grief. "Ang tanda na ng nanay ko para pagdaanan ito. I know it's an act of nature, pero bakit kailangan pa niyang maramdaman ang lungkot? (My mother is too old to have to experience this. I know it's an act of nature, but why does she need to go through this sadness?), she said, her voice quavering.
Cadorna said her mother, caregiver and 10 other members of their immediate family were lucky that she was able to find them a temporary place of refuge in a guest house attached to the rectory of Lobo Parish Church. The parish priest, Fr. Mandy Panganiban, is Cadorna's personal friend.  But she also thinks about the thousands who had nowhere to go after they were forcibly evacuated when the disaster struck. "Pag nakikita ko ang ating mga kababayan, those lined up on the streets, naiiyak ako talaga. (When I see our compatriots, those lined up on the streets, I can't help but cry.)."  The city of Lobo now has about 500 evacuees, she said.
While Cadorna has been able to send funds to her family, with help from her friends, her organization is looking towards providing long-term help for those whose homes have been blanketed with ash and destroyed by magma.  Such help will go towards rebuilding and reconstruction efforts. "Hindi natin alam anong babalikan nila (We don't know what they will be going back to)," she said.
On Sunday, January 26, her organization will be hosting a tiangge or fundraising sale.(See details below). Folks are encouraged to support the tiangge by giving donations that can be sold in the event, buy from the tiangge, or give cash donations. Cadorna expects to travel to the Philippines either in February or March to personally bring the donations so that they can be accounted for.
The disaster also personally affected another Filipino-Canadian, Belinda Garcia, whose family members live near Taal Lake. While they managed to find refuge with another family member, their home was hit hard. "The few times that they went back, our place was covered with ash. Puro putik din na super kapal (There was mud all over, which was very thick)," she said, adding that their barangay is now on lock down.
The Talisay Association of Manitoba, where Garcia is president, has launched a fundraiser to support the people of Talisay who are now staying in evacuation centres in Sto. Tomas, Batangas. (See details below.)
"Ayaw naming ipadaan sa mga politiko. Gusto naming dumating ang tulong directly sa mga nasalanta. Madaling magbigay, pero di mo alam kung saan napupunta, (I don't want the money to go through politicians. We want help to go directly to those who were affected. It's easy to give, but you don't know where the money goes," she said, adding that her organization's Facebook page is accounting for every money raised and spent to ensure accountability of resources.
Migrante Canada and other chapters of Migrante around the world, have also issued a call for cash donations as part of its Sagip Migrante, a project that responds to calamities in the Philippines.
"I'm encouraging people to donate sa Migrante or sa ibang organization na humihingi ng tulong, (or to other organizations that are seeking help)" said Sol Pajadura, chair of Migrante Canada. While responding to calamities should be a government responsibility, Pajadura said Filipinos know not to turn their backs on those who need help.
"Tayo ay may mga puso di natin hayaan na hindi tumulong sa mga taong nangangailangan, (We have a heart, we can't neglect attending to those in need), she said. She also noted that many Filipinos  are poor and do not have the capacity to deal with disasters. "We really need to unite in times of calamities like this, maraming ang mga taong mahirap na lalong naghihirap (there are many poor people who are only going to get poorer). We really need to open up our hearts," she said.
Like other groups, Migrante will be coordinating the release of its donations to its contacts in disaster areas, said Pajadura. She also noted that while the government was aware that Taal Volcano was already showing signs of activity since early 2019, "halos walang preparation sa evacuation (there was almost no preparation in place for evacuation)."
Right now Migrante prefers to receive cash donations "kasi mas madaling ipadala kaysa sa box, which will take two months, (cash donations are easier to send), said Pajadura. However, she said, if people would like to donate goods, "we will still accept them and send them later."
(See details on how to donate below.)  Migrante is also planning a fundraising event sometime this spring, said Pajadura.
The Philippine Independence Day Council Toronto (PIDC) will kick off its long-term fundraising event for Taal victims on Tuesday, February 25, according to its president, Ramon Estaris. PIDC will join hands with Gawad Kalinga and FV Foods for the effort.
"It's so sad that right after the typhoon, here comes another challenge," he said. "For us, mahabang support ang kailangan (long-term help is needed)."
Estaris added: "I'm encouraging our kababayan and friends to please extend your support. This will be a long-term effort. Right now the immediate needs are food and shelter. The second phase will be empowering them to rebuild their homes and livelihood. Sana hindi tayo magsawa. (I hope we don't tire of helping)."
Meanwhile, the Praise Christian Family Church also held a fundraising event January 18-19, and is now hosting an online silent auction for Taal Volcano evacuees.
Church members were encouraged to donate things that could be auctioned. Items that were not sold or donated after the event are being auctioned online, said Jasmin Gines. "We won't put a price on things. We want people to help as much as they can. If people are willing to just give cash, that's another option," she said.
Money received will be channeled to the church's network in affected areas. "We have organizations that are already helping and going around evacuation centers," she said. "We also have church members who have families that are part of the rescue and evacuation efforts. Volunteers are already there."
Meanwhile, the Philippine Consulate in Toronto is encouraging Filipino organizations interested in offering assistance to contact other NGOs directly in the Philippines.
"We get our instructions from Manila and as of now, we have not received instructions to send out requests for assistance. Local institutions are providing assistance (on the ground)," said Consul Edwin  Mendoza in a phone interview. "We have received some calls from concerned Filipino organizations and we've told them that it's better to go directly to their local contacts."
How to donate. Here are some organizations accepting donations for Taal Volcano evacuees:
• Lemery Club of Toronto
 Fundraising Sale (Tiangge), Sunday, January 26, 5500 Yonge Street, Party Room (near Yonge and Finch subway); 10 a.m. to 6 p.m.
Cash donations will also be accepted; You can send donations via e-transfer to mvcadorna@yahoo.com. Please include your full name for tracking purposes.
For more information, contact Maricel Cadorna (647) 994-1327; or Janet Lim (416) 732-4822
• Talisay Association of Manitoba
Cash donations: contact Belinda Garcia (204) 798-2643; You can send donations via e-transfer to:  Drop off donations at Philippine Canadian Centre of Manitoba; 737 Keewatin Street, Winnipeg, MB; Facebook: Talisay Association of Manitoba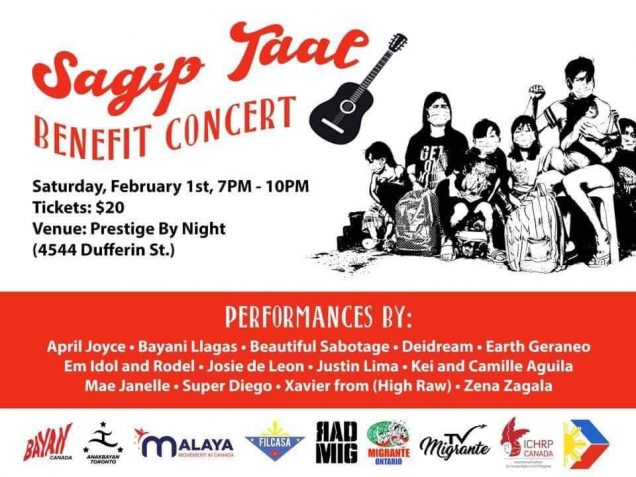 • Migrante Canada
Donations can be sent via e-transfer to migrantecanada@gmail.com, with the subject "Taal Volcano, Sagip Migrante." Cash and cheque donations can also be dropped off to local Migrante offices
Toronto: Migrante Ontario (Sol Pajadura, migcanada.on@gmail.com, 647.919.5421)
Ottawa: Migrante Ottawa (Aimee Beboso, migranteottawa@gmail.com, 613.255.1921)
Montreal: Migrante Quebec (Tony De Jesus, tonyndj17@gmail.com, 514.850.7077)
Calgary: Migrante Alberta (migrantealberta@gmail.com – Jay Zapata,  403.615.2330; Edmonton: Cynthia Palmaria, Edmonton, 780.937.5908)
Vancouver: Migrante BC (Chris Sorio, migrante.bc@gmail.com, 416.828.0441)
Winnipeg: Migrante MB (Diwa Marcelino, diwa.marcelino@gmail.com, 204.218.710
• Philippine Independence Day Council
Donations can be made via Gawad Kalinga Canada
Email transfers can be sent to: e-donation@gk1canada.com. Kindly state your name, address, email address and phone number in the "Message to Contact" box for official receipt purposes as required by the CRA. Please designate donation to : Taal Eruption Disaster Relief
To make a donation online, or to send a cheque, go to : http://gk1canada.com/donation
For more information, send a message on Facebook: @PDICTORONTO