Poor getting poorer, rich getting richer – IBON
Poor getting poorer, rich getting richer – IBON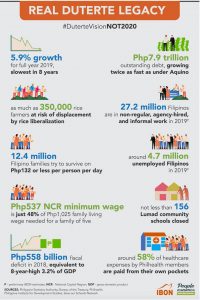 By Sarah De Leon
ManilaToday.net
"It is cliché to say but the rich are still getting richer and the poor getting poorer," said Sonny Africa, IBON Executive Director.
Research group IBON shared its regular year-starter national situationer discussion on January 24 at the Commission on Human Rights in Quezon City.
"The richest 40 people has the equivalent of all the wealth of the poorest 40 million in the country and this is getting worse. What the government did and has succeeded to do is make the rich richer," explained Africa.
Africa said that while the government has many various social services, these remain limited. He added that the tax reform program of the government also favored big business interests, exacerbating economic equality or the "gap between the rich and the poor."