Rapper Han Han releases URDUJA      
Rapper Han Han releases URDUJA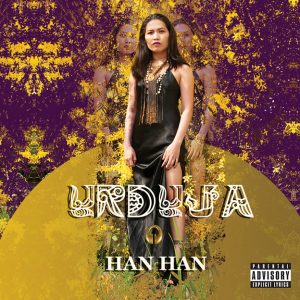 TORONTO–Fast-rising Toronto-based rapper Han Han releases her sophomore album URDUJA on Jan. 30. A Filipina-Canadian operating nurse by day, and rapper by night, at the hospital she saves lives, onstage she inspires audiences. On her new long awaited and highly anticipated 13-song deep album, Han Han, a proud immigrant woman, explores the journey and complexities of woman-becoming.
Comparable to the energies found on her widely celebrated independent self-titled album Han Han, which received critical acclaim from outlets like the Huffington Post , Han Han uses her well cultivated rap and spoken word techniques to deliver strong vocals. Her approach is melodic and she chooses to vocalize in Filipino languages (Tagalog and Cebuano), with a mix of English, rather than shoehorning her ideas into translation in order to cater to English-speaking audiences, and thus potentially losing the full meaning and impact. The central inspiration for this album is URDUJA, a legendary princess, warrior, and leader who is the heroine in Filipino folklore. According to legend, she bested her brother in battle and was therefore awarded power over their father's kingdom "Tawalisi". Beloved by her subjects, and admired for her intelligence, URDUJA is a force of femininity, courage and agency in the Filipino collective consciousness, represented in Han Han's music. The album artfully combines and clashes contemporary 808-hip hop beats with traditional Filipino instrumentation (gongs), rhythms and cadences, yielding rare, fresh sounds that spur dancing wherever they're heard.
Han Han's music career started to take off after appearing on the single "World Gong Crazy" which was nominated for Best Song at the 2017 Berlin Music Video Awards. This led to a publishing deal with EMI, high quality film and television placements, and international radio airplay in France, Germany and the Philippines. Han Han has also been profiled in a number of the largest media outlets in Canada.
(PRESS RELEASE)