Satisfaction or Willful Blindness?
Satisfaction or Willful Blindness?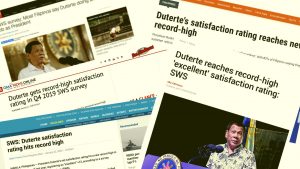 By Carlo Rey Lacsamana
ManilaToday.net
It is impossible to avoid some observation on the contradictions caused by the recent survey conducted by Social Weather Stations (SWS) which renders the current regime an overwhelmingly favorable disposition with widespread support and tolerance—"The  poll, taken from Dec. 13 to 16, 2019, showed 82 percent of adult Filipinos satisfied and 10 percent dissatisfied with the performance of Duterte."—despite the irrefutable counter factual evidence that the general situation in the country is far from satisfactory.
Despite "President Duterte's net satisfaction rating hit a new record high" studies after studies, investigations after investigations, reports after reports of numerous internal disasters and unabated chaos have flourished under his wing. How do we reconcile the sanguine calculation of the SWS survey and the undeniably contradictory reality we live in?
Observe:
While "His latest net satisfaction rating was seven points above the very good +65 registered in September 2019, and a new personal record that surpassed the previous record of 'very good' +68 in June 2019," the same SWS conducted a survey on poverty which concludes that "at least 54 percent of Filipinos are considering themselves as poor." "Most of the people who rated themselves poor are in the Visayas (67 percent), followed by Mindanao (64 percent), Balance Luzon (47 percent), and Metro Manila (41 percent)." The compliment "very good" seems to be out of place considering that the 54 percent "translates to 13.1 million families who self-rated themselves poor—a big jump from the 10.3 million in September 2019."