Transforming lives with music
Transforming lives with music
Rapper Han Han builds mainstream following
By Althea Manasan
The Philippine Reporter
Haniely Pableo, better known by her stage name Han Han, never really wanted to be a rap star.
But more than five years after releasing her self-titled debut, the Toronto-based, Filipina-Canadian artist is back with her sophomore album, Urduja, and with performances at festivals around the world and a recent appearance on CBC's q under her belt, her star is rising.
"At first, it was just purely a play thing," Pableo said in an interview with The Philippine Reporter two weeks after Urduja's album launch at Toronto's Lula Lounge.
"It was a safe space for me to express myself, just sort of like a medium to just play and be free, without thinking about consequences or thinking about, 'Oh, is this going to be a hit or not?'"
Pableo first drew the attention of mainstream media with her unique fusion of hip-hop and traditional Philippine gong tribal beats overlaid with her expressive lyrics, which were completely in Tagalog and Cebuano.
A 2014 article from the Huffington Post described her debut as "rebel music made from a bricolage of sounds and influences, and from a place of marginalization."
Pableo is an immigrant, and her experiences are reflected in her music. Born in Cebu, she calls herself "Cebuano by blood." Her parents were OFWs and left the Philippines when she was seven years old, leaving her to be raised by her grandmother, Maria.
"You tend to grow up earlier than most kids," she said. "I can't really relate to most people my age."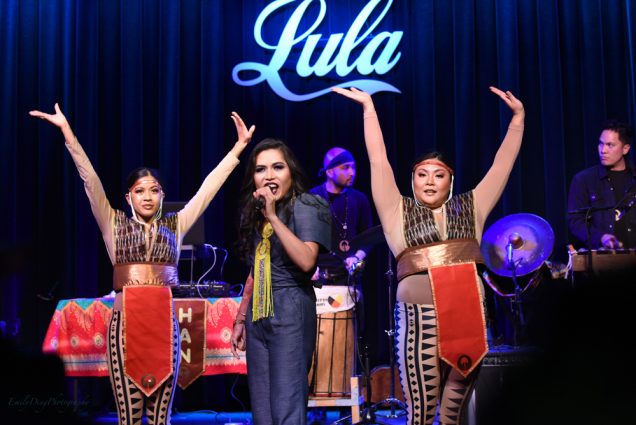 In 2006, Pabelo, along with her two siblings, arrived in Toronto to join their mother, who had been working as part of the Live-in Caregiver Program. At the age of 21, Pableo began to settle into life as a newcomer to Canada.
"My mom was really good at teaching us independence here. She gave us TTC tokens and loaned us $50 to open a bank account."
Pableo worked a variety of jobs, including as a physiotherapy assistant and as a retail associate at the Gap, before enrolling in Ryerson's nursing program to upgrade the training she had already received in the Philippines.
It was around this time, in 2009, when Pableo decided to join a poetry class at the Kapisanan Philippine Centre in Toronto's Kensington Market, where she discovered her talent with words. She also met her future creative collaborators, including music producer Lex Junior, who tried to convince Pableo to write and record an album.
Skeptical of the idea, Pableo agreed to apply for a government arts grant. "I said, 'Fine, let's try it. If we get the grant, then we'll make the album. And if we don't — if it's meant to be, it's meant to be. That's how I always look at it."
Pableo ended up receiving a grant from the Ontario Arts Council, and over the next few months, she got to work. "I got scared," she said, "because I actually really have to make an album and I've never done this before."
At the time, she was a full-time nurse in London, Ont., and would travel back to Toronto to write and record on her days off. The result was Han Han, a self-released album featuring eight tracks exploring themes of identity and the immigrant experience.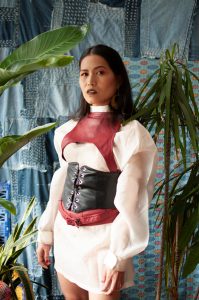 In the track "Sige," she raps: Sige ka lang ng sige kahit na minamaltrato / Ng 'yong kapwa't ng 'yong amo / Kalimutang ika'y tao na may puso at talino / Sige ka lang ng sige kahit na tawaging "nanny"
[You keep on keeping on even though you're treated badly / By your peers and by your employers / They forget that you're a person with a heart and a mind / You keep on keeping on even though they call you "nanny"]
Not long after Han Han's release, Pableo decided that she needed a break. Rather than focus on promoting her album, she quit her nursing job, stopped writing and making music, and bought a plane ticket back to the Philippines.
She spent time traversing the country, backpacking and helping out various relief efforts following Typhoon Haiyan. She visited an Indigenous school in Lake Sebu, to which she donated the proceeds of her first album.
"I travelled everywhere in the Philippines, because I felt like there was so much I didn't know," Pableo said. "I grew up there, but I didn't really get to travel from one island to another."
After her stint in the Philippines, she travelled to Mexico, France and Australia, throwing herself into a nomadic lifestyle. After two years, she eventually settled back in Canada, where she found another nursing job and performed in shows and festivals whenever an offer arose that interested her.
Pableo also found some success after appearing on the single "World Gong Crazy," a collaboration with tribal music group Datu and performing arts group Hataw, which was nominated for Best Song at the 2017 Berlin Music Video Awards.
Still, she didn't have plans to make more music. "Those years after my album, I just couldn't write," she said.
Then at the end of 2018, her grandmother Maria, who had raised her during her parents' absence, died. "Her death was really stressful to me," Pableo said.
During her grieving process, Pableo was reintroduced to a tale from her childhood, the story of Urduja, a legendary princess, warrior and leader from Philippine folklore, and it sparked something inside her.
"Urduja just reminds me of my grandmother," she said. "She's a warrior, she's fierce, but she's soft and she's kind and she's smart. She's a leader, but her strength doesn't just lie in her physical strength and her intelligence. There is also her kindness, because she's known in her kingdom to be that kind of a woman."
With a newfound inspiration, Pableo successfully applied for grants from the Toronto Arts Council, the Ontario Arts Council and FACTOR Canada.
"It was building up, I think. My grandmother died and it was just like the final straw, and then I just decided, 'Let's make an album.'"
With the extra funding, Pableo recruited artists from the Filipino-Canadian community, including Joe Maramba, Rudy Boquila and her longtime collaborator Lex Junior. Her album cover was designed by Alesha Aquino, a Toronto-based emerging artist who had never created album art before.
"One of my purposes in making any project that I have is to give [opportunities] to the people in our community… who don't have the platform to exhibit their talent and their skills," Pableo said. "So I've got a bit of leeway on this budget, so… I invited more people on the project."
The 13-track album, which is available to stream on Spotify, iTunes, Deezer and Amazon Music, is described as exploring "the journey and complexities of woman-becoming."
In the chorus for "Babae Ka," Pableo chants: Ang ganda ko, no? / Ang ganda ko / Ang ganda ko, no? / Ang ganda ko
[I'm beautiful, yeah? / I'm beautiful / I'm beautiful, yeah? / I'm beautiful]
It's a feminist rallying cry reminiscent of Beyonce's: Who run the world? Girls
But even as Pableo's success ramps up with this latest release, she's insistent that she values the quality of her impact over the size of her audience. Fame was never an objective; in fact, she still works full-time as an operating room nurse at Toronto General Hospital and has no intentions of giving that up.
"I don't really care about how many followers I have," she said. "It could be just like two to three people, and [my music has] absolutely transformed their lives or something. I'd rather have that than a million followers."