Remembering Celia Correa: Filipina artist
Remembering Celia Correa: Filipina artist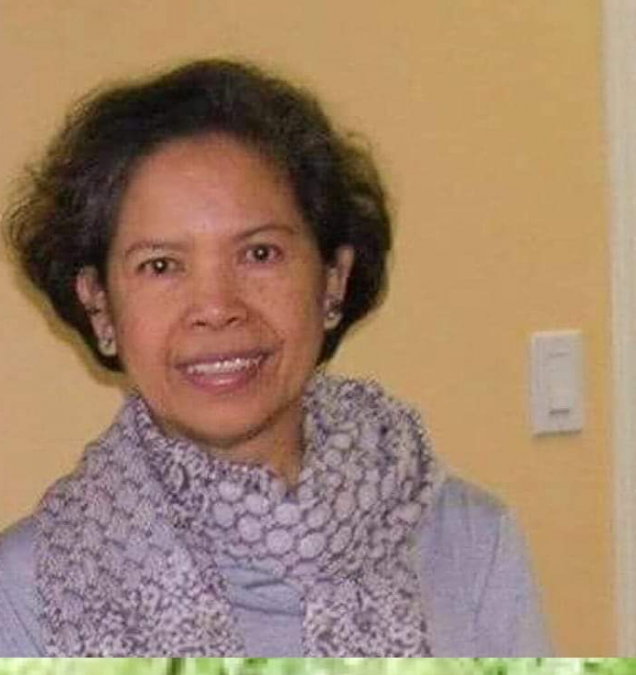 I would love to be able to wake up in the morning everyday and not think about anything but paint. I would like to continue painting people I love: my family and friends. … . To have the luxury of being an artist on a full-time basis would be my heart's desire! (Celia Correa in an interview with Yolanda Palis entitled A Reason for Being, featured in the April 2010 issue of Our Own Voice, an online literary/arts journal that publishes works reflecting Filipino insights and experiences in the diaspora.)*
By Rick Esguerra
Amy Correa-Dy celebrated the 40th day after her sister Celia Correa's passing last March 6 with a Mass at St. Patrick's Church and lunch with Celia's friends and former colleagues. Celia, who used to work in the Graduate Admissions Unit of the Ontario Institute for Studies in Education (OISE), was a Filipina artist in Toronto. She passed away January 27, one-and-a-half years after she was diagnosed with cancer.
Born in Los Banos, Laguna, Celia was the eldest of five siblings three of whom had passed years back. Her youngest sister Amy, whom she had sponsored to come over, lives and cared for her here in Toronto. Amy's son Jesse, now 19, was for Celia "the heart of the family and the inspiration for many of my paintings". Amy says that Celia entrusted to Jesse her collection of paintings that she did here in Toronto.
Celia recalled always asking her father "to draw for me and he would always draw the outline of a human figure." She then continued drawing on her own, describing herself as self- taught. At the University of the Philippines in Los Banos in the late sixties, "a mentor who had heard that I could draw, asked me to do a political cartoon that would be used for a position paper."
People had always been her main subject. "At university, I went on to drawing more political cartoons, to designing posters, painting murals on walls and canvasses and paper, I was using ordinary enamel house paint. I started experimenting with color in painting the human figure. Through my interaction with formally trained artists coming from other universities I developed confidence in my technique and my preference for figurative painting."
The late sixties to the early seventies was a time of political ferment marked by an upsurge in the youth and student and people's mass movements brought about by rising nationalist sentiments against foreign interests and dissent around the issues of poverty, unemployment, landlessness and corruption of the Marcos regime. It was around this time of the First Quarter Storm of 1970 that Celia was part of a group of artists called Nagkakaisang Progresibong Artista- Arkitekto (United Progressive Artists-Architects), "mostly formally-trained artists from the University of the Philippines in Diliman and the University of Sto. Tomas. … we followed a very specific style of representing images of people. The farmers, workers, women, intellectuals and cultural workers were portrayed with very stern expressions and exaggerated strong features like superheroes, while the establishment characters as small and weak caricatures," Celia recalled.
Upon the declaration of martial law in 1972, her artistic endeavours came to a halt. She focused on finishing her studies and getting a full-time job. She finished her Bachelor of Science in Agriculture "later than my peers in college because of my involvement as an art activist". She then worked in several government and private agencies in Manila for a while and then completed her Master of Science in Development Communications at UP Los Baños also. In 1982, she pursued her second Master's degree in Communications at Simon Fraser University in British Columbia, Canada. After going back to the Philippines in 1985 and working at the International Rice Research Institute for two years, she applied and was accepted to the doctoral program in Adult Education at the Ontario Institute for Studies in Education (OISE) of the University of Toronto. From then on, she lived in Toronto.
"I call it my long artist's block which began in the late 70s and lasted until 2006. In between those years, I tried going back to painting.  There was a time when I used to make my own Christmas cards to send to friends. An announcement, a call to artists for an exhibit at OISE, my place of work, motivated me to finish two paintings of my nephew which I had started the year before."
She then submitted these paintings of Jesse for the OISE art exhibit held by staff, students and faculty artists. Since then, she joined the yearly OISE exhibit, submitting one to three paintings each time.
"My ate is a very humble person. She doesn't really talk much about her works and exhibits. … but she has done a lot," according to her sister Amy.
She participated in the exhibits of the Philippine Artists Group of Canada and the first Filipino-Canadian Symposium of academic scholars held at OISE in 2009.
She had her first solo exhibit at the Nineveh Artspace in Sta. Cruz, Laguna, Philippines from November 2009 to January 2010. The exhibit entitled Lagpas: Mga Pinay sa Diaspora was a tribute to the lives and the situation of Filipinas in Toronto. Of these paintings, Celia had said,
"I would like to expand this theme as a continuing project. I am using the portrait as a tool to increase the visual space devoted to images of Filipinas particularly in places like the galleries or other sites of cultural production where images of Filipinas are either absent or confined to stereotypes."
"I have to have a purpose whether political, personal, or emotional in order to paint. I painted my nephew because of my love for him. I painted the portraits of Filipino women who attended the memorial service for a fellow overseas Filipino worker (Juana Tejada) in 2007 because I was deeply touched by the whole story. Now I am painting about Filipinas in Toronto because their experiences are my experiences also. I painted the legend of Maria Makiling because I was homesick for my hometown and the magical mountain that surrounds it."
Celia's paintings were also exhibited in the yearly OISE exhibits, in International Women's Day and Philippine Independence Day celebrations, in community events such as the recent Bonifacio Festival, organized by the Filipino Canadian Writers and Journalists Network in November last year and in international solidarity gatherings.
———————————
* Quotes and stories from Celia Correa were drawn largely from this featured interview with her townmate Yolanda Palis. YOLANDA PALIS, a writer from the Philippines, lived in Austria, Germany and France for 15 years. Her poems have appeared in the anthologies Babaylan: An Anthology of Filipina & Filipina American Writings (Aunt Lutte Press, 2000) and Returning a Borrowed Tongue (Coffee House Press, 1996). She completed her memoir and is now focused on writing stories of migrant women workers. She has also begun exhibiting her abstract paintings. She has lived and worked in the Washington D.C. area since 1991. Much thanks to Amy Correa-Dy for sharing this resource.