Open letter of thanks to our kababayan sa Canada
Open letter of thanks to our kababayan sa Canada

The Corona Virus Disease (COVID-19), the pandemic that is raging around the world, impacts not only the health of our collective community and our individual community members but also our economic livelihood and security.
We express our grateful appreciation to the many frontline workers in this health crisis and most especially for the work of our own kababayan in this on-going fight – not only our doctors and nurses but also our homecare workers, care aides, hospital workers, housekeeping staff, cleaners, food service and retail workers in groceries, markets and pharmacies, farm workers, domestic workers, bus and delivery drivers, truckers, warehouse workers and workers in essential manufacturing, daycare workers for children of those working in essential services, and all those workers who labour in the daily essential services to keep life, health and public safety of our communities going. We also give a shout-out to our Migrante Canada members working in the frontlines. Maraming salamat sa inyong lahat.
As of April 1 in Canada, the total of confirmed cases is 9,526 with 107 deaths. The global total of confirmed cases affecting 205 countries is 912,650 with 45,541 deaths. The provinces that have seen the highest number of cases are Quebec (4611), followed by Ontario (2,392), British Columbia (1,013) and Alberta (754). So far, the highest number of deaths has been in Ontario (41), Quebec (33), BC (24) and Alberta (9). In Toronto alone, there are now 591 cases with 6 deaths. We also know that there are cases of those who tested positive that are recovering at home in self-isolation.
Of the 41 deaths in Ontario, at least 30 were of residents in Ontario nursing and retirement homes, over twice the number that provincial officials reported March 30. At the Pinecrest Nursing Home alone where there are a total of 65 residents and 72 staff, 31 residents and 24 staff are sick,12 residents and 1 volunteer have died. However, there were 18 more COVID-19-related deaths at long-term care and retirement homes stretching from Sarnia to Orleans. And according to public health units in the province, at least 22 facilities for seniors are currently facing outbreaks of COVID-19, raising fears that the pandemic will result in more deaths in long-term care homes.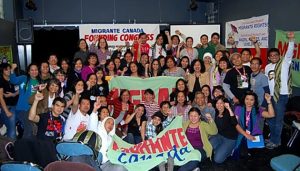 Many Filipino health care workers are nurses and personal support workers in hospitals and in these long-term care facilities. In British Columbia, out of the 16 coronavirus deaths, 11 were traced to the Lynn Valley Care Centre, a private facility. It is staffed by almost all middle-aged Filipina-Canadians, not unionized and on subcontracts. As of March 21, 35 residents and 19 care workers tested positive for COVID-19. The residents and their families and care workers described an understaffed facility with delayed communication and testing. Because of the outbreak, health care workers who worked casual shifts in multiple facilities were directed to work at only one facility which meant not only a severe cut in the income of these workers but also, a reduction of staff in the other facility.
Filipino workers in Quebec, Ontario and Alberta in the frontlines of essential services like warehousing, logistics and food processing are particularly vulnerable due to their work conditions. For many years, organizers have been raising this issue of packed workplaces. With the onset of the pandemic, these same work conditions come to the fore while we ask workers in these sectors to step up and take the risk for us under the "white-collar quarantine" policies.
The COVID-19 crisis highlights the very important work of our kababayan in our communities here in Canada. This is work that they do with or without a global health crisis. By doing the work as frontline workers, they help in the control and spread of the COVID-19. They deserve the dignity and respect from everyone.
Our overseas kababayan frontline and essential service workers here in Canada exemplify the same spirit of commitment and service to the people as our kababayan in the Philippines, those who work in very challenging conditions that include lack of protective equipment, severe shortage of basic medical supplies and health personnel, lack of just compensation, and who face the daily risk of being infected with the virus itself and dying from it. Particularly vulnerable are the undocumented workers in the food, caregiving and construction sectors, and who continue to work in the essential services but are not covered by EI and emergency relief benefits.
COVID-19 exposes the need for systemic changes in the health sector such as improved wages and benefits for workers and the need for unionization instead of privatization. The COVID-19 highlights the need for worker protection, especially for precarious, low-waged and migrant labour, not only for our kababayan but also for other migrant and racialized women workers. By worker protection, we mean access to EI, paid sick leaves, health care and benefits and other protections, regardless of immigration status. We note that many international students who rely on on-campus work and housing to survive are facing difficulties as well. We will see more lay-offs, business closures, loss of income, inability to pay rent and pay debts and know that these take its toll in our community's emotional and mental health and living conditions.
We are putting it out there: not only are we all in this together, but we are here for each other.
We raise the spirit of bayanihan, our Filipino value of helping each other and looking after each other. People's organizations such as ours, whose membership make up the marginalized sectors of our community, are with you especially at this particularly difficult time. We continue to organize and campaign for our rights and welfare as workers in Canada even as, at the same time, we continue to challenge our government back home to ensure the protection and welfare of Overseas Filipino Workers. We know that our kababayan worry about their families and communities in the Philippines who are facing the COVID-19 crisis amidst militarization, poverty and lack of basic public services. We certainly join our voices with those who advocate for scientific and health-based solutions to the crisis and for the government in the Philippines to invest in the health and livelihood of our people.
Maraming salamat sa ating mga kababayan. We are all in this together.
MIGRANTE-CANADA
(April 1, 2020, PRESS RELEASE)
———————————
(The Canada-wide alliance of progressive Filipino organizations and a proud chapter of Migrante International, the biggest global alliance of Filipinos overseas)