Bayanihan spirit very much alive in a COVID-19 pandemic
Bayanihan spirit very much alive in a COVID-19 pandemic
Kababayans from across the country are reaching out to people in the community and beyond.
By Veronica C. Silva
"Bayanihan" loosely means cooperative spirit or unity in English. If you're Filipino, have Filipino heritage or knows someone who's Filipino, chances are you've heard of this word.
But even if you haven't heard or know what it means, chances are you've experienced what it means. Because bayanihan is a trademark that Filipinos bring with them wherever they are around the world — even here in Canada. And, yes, even in a pandemic.
Almost as soon as states of emergency were declared in almost every province and territory, Filipino Canadians were quick to step up, knowing that somewhere out there is someone in need.
In the GTA, Kanto by Tita Flips sensed there was a need to address the food needs of frontline healthcare workers.
The street food specialist has a takeout stand in Bathurst Street and Dundas St. West, mere steps away from Toronto Western Hospital. This location has been serving hospital staff for years. With COVID-19, the demand didn't wane.
The healthcare workers, especially our kababayans, were asking for rice meals, said Kanto chef and owner Diona Joyce. Because some hospitals had closed their cafeteria, our kababayans were asking for other foods aside from sandwiches. Each Kanto meal contains rice, spring rolls, and more.
From this initial demand, Joyce said she was quick to act, knowing that other frontline workers might be facing the same challenge. However, she knew before hand that the order is too tall for her and her staff to conquer.
Kanto has found help in long-time collaborator, Adhika, a registered non-profit helping communities with development projects in Canada and the Philippines.
"In just a few days after conceptualizing how we can help kababayan frontline workers, we were able to raise funds and made our first delivery to Toronto General Hospital on March 31," said Nora Angeles Chairperson of Adhika, in an interview with The Philippine Reporter.
From one, the number has now ballooned to 42 healthcare units from all over the GTA.
The initial food requests were bankrolled with donations of $500 each from Kanto and Adhika to result in 200 free meals.
It all started with personal contacts in hospitals, said Angeles. Pretty soon, both teams could hardly keep up with requests for food deliveries around the lunch time period. Adhika coordinates food request from beneficiary hospitals; Kanto prepares the food and delivers seven days a week.
The personal contacts in these health institutions are, not surprisingly, kababayans. Filipino healthcare workers are one of the Philippines's top exports, including here in North America.
Donations are accepted for a meal worth $5 each, and tax receipts are available for donations of more than $10. As of end-April, the collaboration (KantoCares.ca) has delivered more than 2,000 free meals and raised more than $9,000.
Kapit Bisig
Aside from frontline health workers, there are other Canadians in need. And there are other Filipinos reaching out to Canadians, regardless of status, ethnicity or work.
Kapit-Bisig Laban COVID has been mobilizing since March.
"Kapit Bisig" in English means arms linking, and this is exactly what Filipino-Canadian groups, led by BAYAN Canada, are doing. By pooling their resources and networks together, they are helping mostly undocumented workers, temporary foreign workers (TFWs), international students — those who have seemingly slipped through the cracks. Of course, they are also helping even Canadian citizens, mostly those in frontline work, such as caregivers and personal support workers (PSWs).
"Yung mga organizations dito sa Toronto under BAYAN — Migrante Ontario, Anakbayan, Gabriella, atbp. — napag-usapan namin sa aming monthly meeting na kailangan namin bumuo ng task force to help our members na undocumented workers. Kasi na-foresee namin na kapag nag-close down (yung mga trabaho) yung mga undocumented workers namin di maka-access ng EI, kung mawawalan sila ng kita. (We thought of creating a task force because we anticipated that some of our members, some of them undocumented workers, could not access EI when they lose their jobs as businesses close down)," said Maria Sol Pajadura, chairperson, Migrante Canada.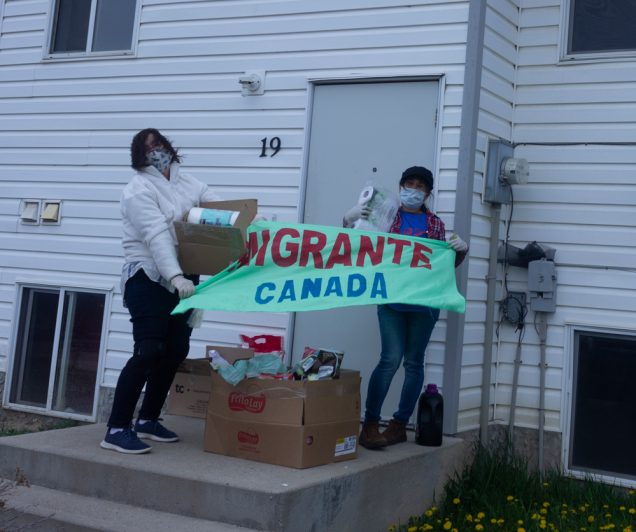 The groups behind Kapit-Bisig quickly mobilized a host of efforts and support to their members, most of them migrant workers. Some of their initial activities were health campaigns, such as proper washing of hands and how to conduct a self-assessment to determine if a person has COVID-19. They are also helping their members with how to access EI and other government economic relief programs like the Canada Emergency Response Benefit (CERB). They are also assisting some members, including citizens, to know their rights, as in the case of stay-out caregivers.
They also created a website, KapitBisig.ca, as a portal to match volunteers with those in need of help and the pool other resources, such as equipment and vehicles for deliveries, together.
Pajadura said they are also working with FoodShare Toronto, an organization that provides fruits and vegetables, which are in turn distributed to undocumented workers. (with pics) With food already taken care of, hopefully, their members can use their money for other necessities, such as rent, said Pajadura. As of April, Migrante estimated that they could hand out food boxes to at least 40 individuals.
In Alberta, Migrante is also working with other non-Filipino groups as the need cuts across ethnic lines.
Jay Zapata, vice chair, Migrante Alberta, said in an interview with The Reporter that Migrante and other BAYAN organizations are working with different organizations to create a structure to better respond to COVID-19 and to be able to reach out to more communities.
In the case of the Prairie province, Zapata said there is dire need to help out TFWs in meat processing plants where there are COVID-19 outbreaks.
"Ang outbreak ng COVID dito ay may backlash sa mga Filipino migrants. Madaming employed na TFWs dun sa mga planta. (The outbreak in a meat plan here in Calgary, including a more recent one in another plant, is creating a backlash among TFWs). "They (people in Alberta) are blaming the TFWs, especially with Filipino background (for the outbreak)," said Zapata.
It's been widely reported that Filipino TFWs are being blamed for the outbreak.
Two meat packaging plants — Cargill in High River, Alta. and JBS Food Canada in Brooks, Alta. — have reported hundreds of cases each.
"We're reaching out to them to help them navigate what resources are available to them, not only in terms of food, but also (to assure them) of that feeling of connectedness," Zapata added. "That's why the arms link, or kapit-bisig, is very timely."
Because of the outbreak, some TFWs from these meat plants are in self-isolation. Migrante in Alberta and local partner Alberta Assembly of Social Workers have distributed relief to the homes of meat plant workers.
Zapata said that with COVID-19, Migrante Alberta's outreach is more focused outside the cities of Edmonton and Calgary. But their initiatives are not just focused on TFWs; they are also helping other Canadians who have mental health and economic issues, such as rent.
In the GTA, Pajadura said there are also Kapit-Bisig volunteers who are reaching out by phone to some kababayans who may be isolated and alone.
There are definitely more initiatives out there from our kababayans. These are but a few examples that aside from the fact that Filipinos are resilient, wherever you find them around the world, they're willing to lend a helping hand.