Martial law survivor gunned down with 9 bullets to the head, heart, torso and extremities
Martial law survivor gunned down with 9 bullets to the head, heart, torso and extremities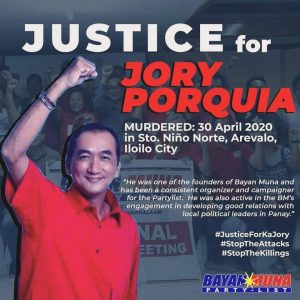 In time of COVID-19
On the dastardly assassination of Jory Porquia, Bayan Muna coordinator of Iloilo City
We condemn in the strongest terms the traitorous murder of Jory Porquia, BM (Bayan Muna) Iloilo City coordinator, at 5:00 am today in his coffee shop at Brgy. Sto. Niño, Arevalo District, Iloilo City by four big men suspected to be assassins of the State.
This is part of the impunity in political killings aimed at terrorizing activists critical of Duterte's administration.
Prior to this killing, Jory was hounded by elements of Iloilo City PNP for leading relief operations and education campaign on COVID 19 among hungry residents of poor communities in Iloilo City. Though Mayor Treñas welcomed the Bayan Muna initiative in assisting the LGU in educating and feeding quarantined residents, this did not sit well with the PNP. They prevent activists in doing volunteer work in fighting the pandemic, even to the extent of spreading blatant lies that "food served by activist is contaminated with the COVID 19 virus. Apparently, the PNP gets instructions from their generals ignoring the policies of local chief executives.
Jory survived Marcos martial law, as a leading LFS leader resisting the fascist rule. After Marcos was ousted, he served as OIC member of the National Youth Commission under Cory Aquino.
He worked as an OFW in the Middle East and later in China, where he was active in organizing and advocating Filipino migrants' rights. Upon his return to the country, he briefly engaged in the construction business and worked as Migrante organizer in Panay. He was one of the founders of Bayan Muna and has been a consistent organizer and campaigner for the Partylist. He was also active in the BM's engagement in developing good relations with local political leaders in Panay. He ran as councilor but failed to win, under Mayor Jerry Treñas slate in 2007 elections.
Jory is a great loss to the progressive movement for social transformation, but will inspire Bayan Muna members and all activists to persist in advancing "New Politics" against the tyrannical rule of the current administration.
We will always remember you, Kaupod Jory… as we turn our grief into liberating courage.
SIEGFRED D. DEDURO
Vice President for Visayas, Bayan Muna
April 30, 2020