Toronto artists join Filipino musicians worldwide for project 'Magiting'
Toronto artists join Filipino musicians worldwide for project 'Magiting'
By Ysh Cabana
The Philippine Reporter
Musicians from Toronto joined almost 200 other international artists in producting song dedicated to people's health and welfare amidst the fight against the COVID-19 pandemic. The music video for "Magiting" was released on May 3.
"Magiting" is the Filipino word for brave.
Sung in Filipino, the chorus plays:
Iisa ang ating damdamin
iisa ang ating hangarin
Magkakasama sa iisang awitin
Alay namin sa inyong mga magigiting
(We have shared emotions
So as our dreams
We are united in a song
As an offering to the brave ones)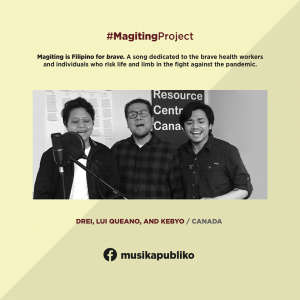 Penned by Jaime Hernandez, the song was arranged and sound engineered by Karl Ramirez in a way space is provided space to every musician so that each are uniquely heard throughout and maximize remote participation via Facebook LIVE performances.
Rey Abella of The Jerks served as music consultant while visual artist Kahlil Villareal created the original track's cover.
Producing the song within the framework of the current lockdown and restrictions to mobility, plus the physical distance of each and every participant was very challenging, according to Musika Publiko, a community of Filipino musicians, composers, music producers, and music enthusiasts for social relevance.
"Magiting is an anthem for all those who continue to support these brave health workers through donations, volunteer performances, and coordinating music communities across the globe to participate in whatever way they can," says Musika Publiko in a press statement.
Toronto musicians Kevin "Kebyo" Feliciano of Fallover band, Drei Karingal of Deidreams and Lui Queano added their voices to the song.
Along with the trio are Solong Aki (Makati City), Pats Loquinario (Mandaluyong City), Maria Ortua (Mandaluyong City), James Rabaino (Ilocos Sur), Aljohn Lamela (Australia), Janine Santos (Belgium), Rose Avisado (Quezon City), Kathrine Taopo (Bicol), Harry Tiu (Laguna), Rence Rapanot (Laguna), Arvy Rojas (Catanduanes), Mia Grace (Pasig City), Divino Rivera (Baguio City), Obi Hernandez (Taguig City), Stephanie Chance (Bulacan), Zelle (Sweden), Boogs Villareal (Pampanga), Enka Villareal (Pampanga), Gold Villar Lim (Mandaluyong City), Jennifer Faye Oro (Taguig City), Maryjane Alejo (Hongkong), Paolo Ay-ay (Tacloban), Paul Puti-an (Cavite), Lin Reoma (Baguio City), Lia Reoma (Baguio City), Karl Ramirez (Naga City), and Yvette Ramirez (Colombia).
Instrumentation: Domeng Molina (Quezon City), Nathan Abella (Manila), Enka Villareal (Pampanga), Bonglennon (Las Pinas City), Burn Belacho (Makati City), LJ Pasion (Quezon City), Kit Manlangit (Pasig City), Jerry Viola (Manila), Princess Ybanez (Quezon City), Boogs Villareal (Pampanga), Dyandi (Quezon City), Darrel Roberto (Australia), and Karl Ramirez (Naga City).
Musika Publiko partnered with the Citizens' Disaster Response Center (CDRC) for collecting and distributing donations.
Funds collected trough Paypal and digital bank transfers to CDRC's account are used to support frontline health workers at hospitals with much needed medical supplies such as personal protective equipment and masks.