Debunking government's defense of the anti-terror bill
Debunking government's defense of the anti-terror bill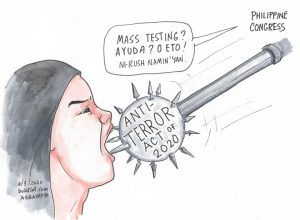 Bulatlat Perspective

Authors of the anti-terror bill have been trying to defend the proposed measure amid wide condemnation from various groups and individuals.
A senator quipped, "Terrorists or their supporters are the only ones who will be afraid of the bill."
Do we have the reason to believe the senator accused of plagiarism and apparently oblivious to facts?
In 2018, the Department of Justice filed a petition seeking to declare as terrorists over 600 alleged members of the Communist Party of the Philippines (CPP) and New People's Army. The list included four former and present United Nations officials, four Catholic priests, a former party-list lawmaker, 36 peace consultants, 17 detained political prisoners, 83 women activists, nine dead, two victims of enforced disappearance, one journalist, and dozens of aliases.