Duterte and the terrors of his ways
Duterte and the terrors of his ways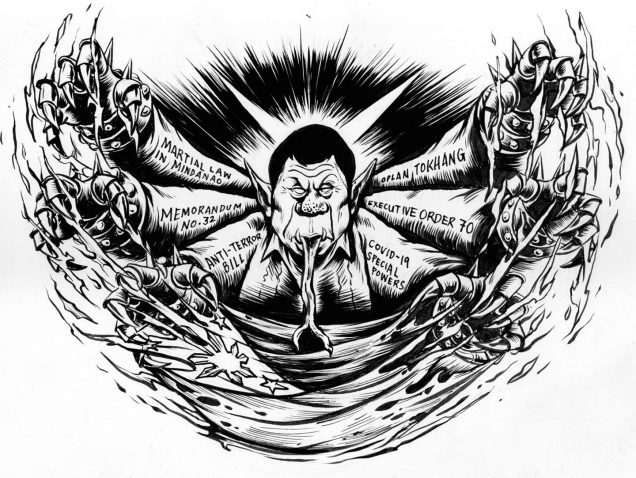 BULATLAT PERSPECTIVE
The Duterte administration uses scare tactics to prevent Filipinos from joining protest actions against the anti-terror bill.
Over the weekend, netizens who used the hashtag #JunkTerrorBill found fake Facebook accounts using their names. The National Bureau of Investigation (NBI), without even conducting an investigation, dismissed it as a mere glitch. Sen. Panfilo Lacson, primary author of Senate Bill 1083, even had the gall to blame critics.
Who has the intention, the machinery and record of utilizing social media for political motives? None other than Duterte and his minions.
The clone accounts failed to douse the anger of the public. The arrest and detention of six jeepney drivers and eight Cebu protesters coupled with stories exposing government's outright incompetence and neglect such as the tragic death of Michelle Silvertino further fanned the flame. The stealthy transmission of the bill to the Palace for Duterte's signature and the House leadership threatening legislators who withdrew their votes of losing their committee posts only prove how effective the protests have been.
A day before the scheduled protest of various groups, Duterte's mouthpieces were in chorus. Presidential Spokesperson Harry Roque said mass protests remain prohibited under the general community quarantine.  Justice Secretary Menardo Guevarra also declared that protests are 'temporarily banned' due to COVID-19.