In Memoriam: Melinda Parreño Rustia
In Memoriam: Melinda Parreño Rustia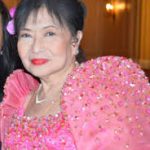 Melinda Parreño Rustia passed away on July 20, 2020 in her hometown, Bacolod City, Negros Occidental, Philippines.
Melinda, with her late husband Armand and their sons, the late Jeff Rustia and Michael Rustia, founded the Kol Hope Foundation.
The Kol Hope Foundation, named in honor of the late Kol Rustia, son of Jeff, raised funds to support research and studies of children's neurological and genetic illnesses, and donated to the Hospital for Sick Children, Easter Seal, March of Dimes, and Bacolod Boys Town.
She is survived by her son Michael, his wife Tina and their son Armand II.