What makes a rebel different from a terrorist
What makes a rebel different from a terrorist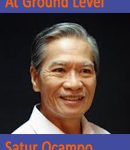 The new Anti-Terrorism Act, which takes effect tomorrow, July 19, is being challenged before the Supreme Court by eight petitions so far filed by different groups.
It should open an interesting debate, involving not just the activists and the political commentators but more so the general public which has often suffered the disastrous consequences of actions by a government that keeps pointing an accusing finger at critics of various stripes.
For the veteran jurist Antonio T. Carpio, retired senior associate justice of the Supreme Court, it is important to resolve that, under the ATA, communists, specifically members of the Communist Party of the Philippines and the New People's Army – "whose intent is clearly rebellion" – cannot, either individually or as a group, be declared or proscribed as terrorists.