Anti-Asian Hatred in the Time of COVID: Speaking up against racial harassment
Anti-Asian Hatred in the Time of COVID: Speaking up against racial harassment
By Justine Abigail Yu
You may recognize my name after catching me on the news or on social media after the recording of my racial harassment went viral a few weeks ago. Not at all the way I wanted to be recognized in my community, but alas, here we are.
On Saturday, July 25th at around 2:30 p.m., I was in the Bayview and Sheppard/Willowdale area sitting in a park reading my book when a woman – who claimed to be a teacher – accosted me and threatened to call the police on me for trespassing.
She then went on to hurl racist insults at me telling me that I can't read or speak English, that I should "go back home to China", and that "all Chinese people should go to jail." She then patrolled me, pacing back and forth from across the fence, when I refused to leave the park.
I recorded a video of myself to capture my story while it was still fresh in my head and incidentally, managed to capture this woman's face and a snippet of her racial slurs.
The next day, I decided to post the video on my social media channels and speak up about my experience.
It has become a sad but necessary reflex to record your own trauma and share it widely to hold racism to account these days. And even then, justice is never guaranteed.
As a community builder and founder of Living Hyphen, a community that explores the experiences of those living in between cultures as part of a diaspora, I felt I had a responsibility to speak up and take action.
No one teaches you what you should do when you've been racially harassed. No one tells you who you are supposed to call to ensure your safety. At least no one ever told me. But here's what I decided to do: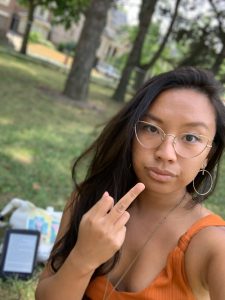 Since this woman was proud to tell me that she is a teacher, I filed a formal complaint with the Ontario College of Teachers. No person in a position of power to shape young minds should ever be standing in front of a classroom harbouring such aggressive and violently racist beliefs. I remain firm in my conviction that she must be held accountable for her actions.
I posted this incident on my social media channels to tell my story and to harness the power of the internet to help identify this woman.
I reached out to the Toronto District School Board to notify them that this incident happened on their school grounds and to find out if this woman was employed by their school board (she is not).
I reached out to local media to bring attention to this issue. My story has since been covered by CTV News, Global News, City News, blogTO, Narcity Toronto, the Daily Hive Toronto, and NextShark.
I filed a report for stopracism.ca, act2endracism.ca, and covidracism.ca to capture this act of anti-Asian hatred for statistical and archival purposes.
Within a week of sharing this incident, we have managed to identify the woman and confirm that she is, in fact, a registered teacher with the Ontario College of Teachers. An investigation is now underway to determine disciplinary action.
There is no blueprint for how one should react or respond to racist acts. Often, it is so shocking that it paralyzes you. I didn't record the initial encounter where this woman threatened to call the police on me because, well, I didn't even realize I was about to be racially harassed until it happened. The whole time I was recording the video, I was trembling from the shock of the experience and the intimidation tactics the woman was employing against me as she paced back and forth watching my every move.
For many other people, it is simply not worth the time and energy. So many Black, Indigenous, and People of Colour have encountered racist acts on such a regular basis that it has become normalized. After rushing to multiple media interviews, filing numerous incident reports, and sharing my story online and elsewhere, I understand this decision.
This whole experience has taken up so much of my precious time and energy that could have been directed elsewhere. As the great Toni Morrison once wrote, "The function, the very serious function of racism is distraction. It keeps you from doing your work. It keeps you explaining, over and over again, your reason for being…None of this is necessary."
There is no "right" way to respond to an experience like this. I'm sharing my response here because I wish someone had shared theirs with me. I hope it serves as a helpful path for the many others who will, unfortunately, very likely encounter racism just like this.
I have said this often in the course of this experience and I will say it again: This is not an isolated incident. This is just one act of racism and as a community and society, we must work to dismantle the systems that produce this kind of thinking.
I hope that we all bring the same kind of energy and ferocity we have brought to identifying this one woman to pushing for the systemic change in our institutions that produces this kind of racism to begin with.