FIDEL AGCAOILI: Committed to human rights, basic reforms and just peace
FIDEL AGCAOILI: Committed to human rights, basic reforms and just peace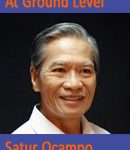 Today, Aug. 8, this column pauses to pay respect to a man, born to a family of means and comfort, who opted to devote his life to the struggle for fundamental reforms and fight for the rights and welfare of the impoverished, exploited and oppressed in our society.
And he lived up to those commitments, despite the many obstacles and challenges he had to surmount.
Fidel V. Agcaoili would have turned 76 years old today. Tragically, a sudden surge of an ailment that induced profuse internal bleeding cut short his otherwise vigorous life last July 23. He passed away at a hospital in Utrecht, the Netherlands, where for many years he had been staying in a small upper room at the office of the National Democratic Front of the Philippines.