Film captures the power of resilience and community
Film captures the power of resilience and community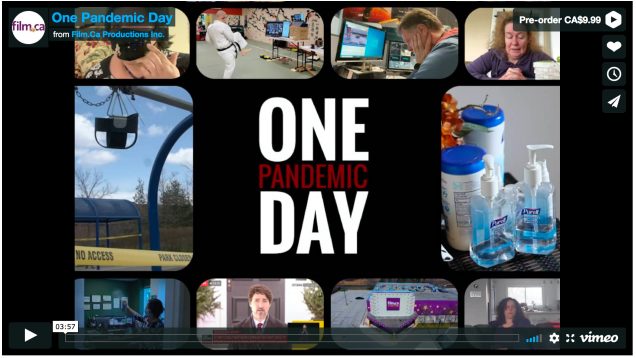 Film Review & Interview: ONE PANDEMIC DAY
By Michelle Chermaine Ramos
The Philippine Reporter
How did you pivot when the world stood still? What stories will your descendants tell of you during this pandemic a century from now? One Pandemic Day offers a raw private glimpse in a day in the lives of Oakville residents including a doctor who discusses painfully difficult options with her COVID-19 patients. Other participants include essential workers, politicians, parents, students, children, small business owners and more who recorded themselves throughout their day on April 14th, 2020. This project proactively preserves a time capsule of this poignant period in history. Due to social distancing protocols, this documentary adopted unconventional filmmaking methods by relying on the unscripted footage the participants recorded with their own devices.
The film explores the fact that although we are all experiencing the same pandemic, everyone personally experiences it differently. Director Mikelle Virey weaves the subjects' tales baring their personal fears and struggles, while also capturing small pockets of peace amidst the global chaos, the power of family, community and the joy in the mundane. It premieres on August 14th, 2020 on Vimeo On Demand at http://vod.onepandemicday.ca/
Ottawa-born Mikelle Virey is a Filipino-Canadian director/actor based in Mississauga. The eldest of two children, he was introduced to the arts early in life when his mother listened to Brahms and placed the headphones over her belly while she was pregnant with him.
Inspired by his grandfather, Virey started playing the violin at the age of four and eventually diversified his musical skills with the piano, guitar and drums. He credits his grandfather for sparking his interest in acting as he recounted a childhood memory of his parents taking him to see a stage production of The King and I at the Brockville Arts Centre in 1988. At that tender age of five years old, he initially had no idea why his family was there until he was shocked to see his grandfather playing the king on stage. Prior to that, he only knew of actors who were strangers and unreachable. However, after watching in awe as his grandfather took the stage, the possibility of acting being a viable career was ignited in his young mind.
His interest in directing began when he got a camera and started playing with his ninja turtle toys and other action figures by arranging and taking photos of them as if they were movie stills when he was 5-8 years old. Virey eventually did a double major in Theatre Performance and Classics at the University of Toronto and acted in theatre and films. To pursue directing, he also studied Advanced Television and Film at Sheridan College. Virey has directed a variety of projects including an award-winning web-series, Kid's Town, teen crime-drama 2nd Generation and comedy pilot Coming Distractions. He has also recently directed three episodes of Wild Archaeology, a documentary TV series on APTN following First Nations experts as they excavate archaeological sites in Canada telling their people's untold stories first-hand. Here, Virey shares his thoughts on the power of film in times like this in our interview.
MR: What made you decide to risk relying on submitted footage? Were you ever worried about getting unusable footage?
MV: Jeff messaged me beginning of April saying he had this idea and actually I pitched him before that on how cellphones now are almost better than the cameras they had in the 90s. So, he pitched the idea to me saying why don't we document people staying at home and we talked about the practicalities of the phones. We both felt this huge weight that there's something here and this is such an important time and there has to be a record of this of some sort other than just online. The project, on top of that, was an experiment. We're not gonna get on set anytime soon. I love editing but I'm not gonna get footage right now so this may be the only time I get to work on something and use the time to make a film.
MR: How much direction did you give working remotely?
MV: I had enough direction to empower the participants but also just enough to step back and let them tell the stories they wanted to tell themselves. I said the do's , don'ts, ideas…I empowered them to film the mistakes because that's great footage. I didn't want to direct it directly and affect the scenes because that takes away from the documentary aspect of it. So, in my eyes, this is almost a pure documentary because people filmed their stories the way that they wanted.
MR: What did you learn in this process?
MV: That there are people who are going through struggles and don't mind sharing it. I used to think that if someone is going through some family trouble that it should be private, but people are happy to share their stories. And it's beautiful and helps us all become better if we can learn from it.
MR: Was there anything particularly eye-opening to you after viewing all the submissions? What do you think people will take away from this?
MV: In fifty or a hundred years from now, they're going to read about all the bad stuff, about the numbers, the deaths. But how many things are capturing all these little human triumphs, the little ways in which we band together, you know? These food banks… how even business owners are pivoting…their prowess and also their struggles.
MR: The arts have taken a backseat with the pandemic's current focusing of all efforts on science in the race to find a cure. What significance, if any, does film as an art form have in times like this?
MV: I realized that in so many key moments in our history, so many of these films have amazing footage and the first thing I think is how did they get a camera there? Then I thought that's the equivalent of writing history except it's real and raw. I found that the power of film right now is so important because instead of people writing about it, you get to watch. It's literally a window into the past if you can get a camera there. So, the importance of filmmaking, especially documentary filmmaking at this point feels really essential and whether those films and the footage are going to be seen now, I think it's more important to just capture what's going on. This might also be a test-run in how films will be made in the future. Who knows?