Who is the real "pasaway"?
Who is the real "pasaway"?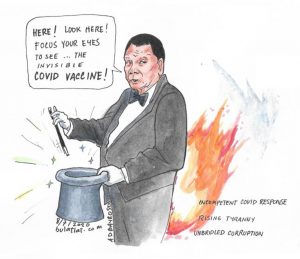 BULATLAT PERSPECTIVE
President Rodrigo Duterte, his alter-egos and paid trolls have been blaming Filipinos for being "pasaway" (stubborn) amid the pandemic.
When medical frontliners complained about the increasing cases of COVID-19 in the country and the health system nearing collapse, Duterte scolded them and even dared them to stage "a revolution."
While the Duterte administration has implemented a two-week stricter lockdown, other legitimate demands raised by medical experts have been largely ignored. It must be pointed out that many of the recommendations have been articulated by several health NGOs since day 1 but, unfortunately, these have fallen on deaf ears.