Groups call for halt in 'white sand' dumping in Manila Bay, raise environment, public health concerns
Groups call for halt in 'white sand' dumping in Manila Bay, raise environment, public health concerns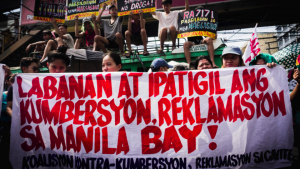 BY AARON MACARAEG
Bulatlat.com
MANILA– Fishers group Pamalakaya lambasted the "white sand project" for Manila Bay and called on the national government to stop it, raising environment and health concerns.
The "white sand" on Manila Bay turned out to be crushed dolomite boulders exported from Cebu.
"Synthetic beautification is far from genuine rehabilitation. Not even a huge amount of 'white sand' can hide the deteriorating environment and ecosystem of Manila Bay, which small fishers endure through depleted daily fish catch," Fernando Hicap, PAMALAKAYA National Chairperson said in a statement.