LILIOSA HILAO: First female casualty and martyr of Martial Law
LILIOSA HILAO: First female casualty and martyr of Martial Law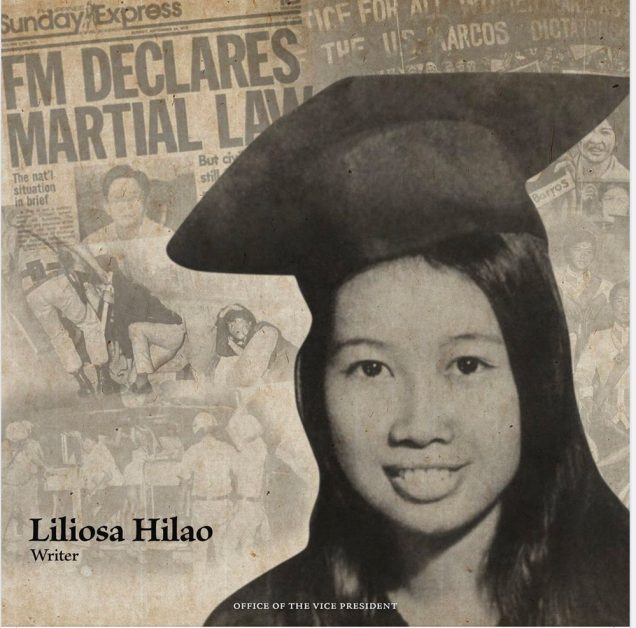 Marcos Martial Law: Never Again, Never Forget
By Vice President Leni Robredo
When Martial Law was declared, Liliosa Hilao started wearing black. She wrote in her diary: "Democracy is dead."
Liliosa was the Associate Editor for the school paper at the Pamantasan ng Lungsod ng Maynila. There, she wrote essays entitled: "The Vietnamization of the Philippines" and "Democracy is Dead in the Philippines under Martial Law." She could not join rallies due to her poor physical condition and asthma, but she made sure that her dissatisfaction with the Marcos regime was known nonetheless.
On April 5, 1973—barely a year after the declaration of Martial Law—troops from the Constabulary Anti-Narcotics Unit (CANU) appeared at her family's doorstep looking for her brother, who the regime had tagged as a communist. Liliosa demanded that they show a search warrant or arrest order, but they had none. Instead, they slapped and beat her. Later, she was handcuffed and taken in for questioning. Liliosa's family members were able to visit her the next day, and could see the effects of beating: Her eyes were bulging and her face was swollen. Liliosa told her visitors that she was being tortured.
The next day, Liliosa was dead. According to the official CANU report, Lilli committed suicide by drinking muriatic acid. Her autopsy said otherwise: Her face was severely swollen, her lips bore cigarette burns. Her arms had numerous injection marks, possibly from "truth serum," a torture method used on victims. Her torso was mottled with finger marks and gun-barrel marks. It was also possible she was sexually abused.
Two weeks after her death was her batch's graduation from the Pamantasan ng Lungsod ng Maynila. As a sign of protest, her batch mates wore black arm bands and left a vacant, symbolic seat for their absent classmate. She was also awarded posthumous cum laude honors.
Liliosa Hilao is considered to be the first female casualty and martyr of Martial Law.
— From VP Leni Robredo's Facebook account