'Mockery of justice,' groups on Duterte's pardon to Pemberton
'Mockery of justice,' groups on Duterte's pardon to Pemberton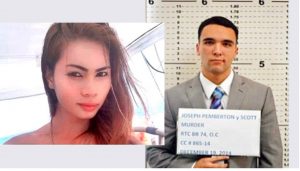 By ANNE MARXZE D. UMIL
Bulatlat.com
MANILA – Progressive groups are indignant that President Duterte granted absolute pardon to US Marine Joseph Scott Pemberton.
Pemberton, who was convicted for the killing of transwoman Jennifer Laude in 2014, is now free to go home.
Bagong Alyansang Makabayan (Bayan) Renato Reyes Jr. questioned the basis of such move. "Why preempt the court process? Why is the President in a rush to pardon the killer of Filipino transwoman Jennifer Laude?" Reyes said.
Prior to Duterte's granting of absolute pardon, the Olongapo court has given Pemberton full Good Conduct Time Allowance (GCTA) credits on Sept. 3. The court had ordered his release, four years ahead of his 10-year sentence. The Laude family filed a motion contesting the Olongapo court's order.