Teething problems for COVID-19 app
Teething problems for COVID-19 app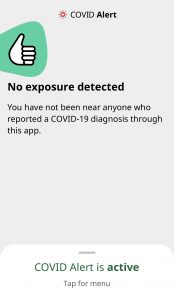 By Irish Mae Silvestre
The Philippine Reporter
No exposure detected.
That's the message most users are likely to see while using the COVID Alert App. However, should that change, users will be notified if they've come in contact with another app user who has tested positive for the virus.
Launched on July 31, COVID Alert is one of the government's newest tools to curtail the spread of COVID-19.
"Think of it as an early warning system," said Treasury Board President, Peter Bethlenfalvy, during a July 31 press conference. "App users can learn faster of potential exposure and take action sooner to self-isolate and get tested."
Some 2.2 million Canadians have now downloaded COVID Alert. The contact tracing app allows users to anonymously confirm if they've tested positive for the virus, thereby alerting people nearby.
While the app was only initially available in Ontario, Trudeau announced on September 3 that it's now also available in Newfoundland and Labrador.
"As more people use it, we can slow the spread of the virus and help prevent future outbreaks," he said in a press statement. "We will continue to work with other provinces and territories so as many Canadians as possible can benefit from the app."
The issue of security and privacy has been a controversial issue and the government has assured users that since the app uses Bluetooth technology, it doesn't track their location data.
But not everyone's convinced.
"I'm still not going to use it even though they said it won't track your information," said Amie Tolentino, an Ontario-based retiree. "As it is, without using the app, the government knows everything about citizens when we're paying taxes, renewing our drivers' license or even just buying a smart phone."
On the subject of smart phones, the app is only available to use for Androids and iPhone operating systems iOS 13.5 or later. This makes it impossible for Canadians without newer phones or smartphones to access the app.
Gabrielle Justine Santullo, a high school student in Ontario, said she and her friends hadn't heard of the app until recently and feels that a lot more can be done to promote COVID Alert via social media.
"The goal is to prevent the virus from spreading again so having this app will be very helpful if everyone cooperates with it," said Santullo. "I would definitely use the app since I will be going back to school, which means I will be taking various means of transportation. My grandmother lives with us so it's important for me and my family to be extra careful when going out."
Filipino-Canadians in other parts of the country believe that the apps should also be available in more provinces sooner rather than later.
Mario Rentasida is a financial representative in Richmond, BC, a province with one of the highest cases of COVID-19. He said that he has yet to hear if the app will be available in their region.
"I heard about [the COVID App] on the news but it's not here [in BC] yet," said Rentasida. "The effects of COVID-19 can be deadly. [Using the app] is a way of doing your part to help inform those you don't know if they've been affected. It also helps authorities contain the virus."
Rentasida's wife Bessie said she hadn't heard of COVID Alert, adding that she tries to avoid reading the news due to the negativity. However, she said she would use the app if it became available in their province. "Personally, I would use it," she said. "Especially if it will notify me if a person near me has COVID."
Then there are Filipinos in smaller cities who hope that their region hasn't fallen through the cracks.
"I think the government of Canada should promote the COVID Alert app and address [people's] questions about its safety and effectiveness," said Allan Samaniego, who lives in Cranbrook, BC, a city of 20,000 people. "It might only be functional in Ontario but it should be available for people across Canada so we can end this pandemic and straighten the curve."
Despite its teething problems, the app is certainly more efficient than the laborious method used at establishments like restaurants. Often, diners are asked to provide their contact information so restaurants can inform them if they've been exposed to anyone who has tested positive.
Canada's Chief Public Health Officer Theresa Tam stated that, in some cases, this method is problematic since people don't always provide the correct contact information, thereby making contact tracing difficult.