Hundreds of Toronto elementary teachers to move to online classes
Hundreds of Toronto elementary teachers to move to online classes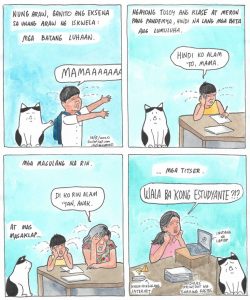 By Ysh Cabana
The Philippine Reporter
The Toronto District School Board is advising parents that some changes are coming to elementary classrooms as the board reorganizes virtual assignments to hundreds of teachers.
In an October 6 memo sent out to parents and guardians, the TDSB announced that elementary schools will lose some in-person teachers starting the week of October 13 to balance out the ratio of students to teachers across the system.
Canada's largest school district board said it announced the reorganization to help support the "significant number of students" — nearly 80,000 — who are currently enrolled in virtual school.
TDSB spokesperson Ryan Bird said approximately 570 teachers will be switching from in-person to virtual classes.
"While I understand it is a challenge for students and their families to have to change teachers at this time, it is really about making sure we support all students," said Bird in an interview with CBC.
The board said that it is working with Toronto Public Health to ensure that cohort changes are safe once the reorganization is complete by Oct 13. Following is a break-down of how teachers will be moved around:
• 12 schools – Gain of 1 or 2 teachers
• 136 schools – No change to teacher allocation
• 161 schools – Loss of up to 1 teacher
• 97 schools – Loss of 1.5 to 2.0 teachers
• 36 schools – Loss of 2.5 to 3.0 teachers
• 21 schools – Loss of 3.5 to 4.0 teachers
• 9 schools – Loss of more than 4 teachers
The board said that schools are going to contact parents later this week if their child's classroom will be impacted by the reorganization.
"Balancing the teacher-pupil ratio is absolutely necessary to ensure more equitable access to learning opportunities for all students. The TDSB is making every effort to better balance our schools with as little disruption to your child's learning as possible," the memo read.
The board has been scrambling to fix the problem by raising class caps, combining grades into single classes, assigning English-speaking teachers to French immersion classes and recruiting teachers from outside of Ontario on an interim basis.
Meanwhile, some schools have too many teachers for the number of students.
Parents and teachers say the government has ignored the demand for smaller class sizes and the report commissioned from SickKids hospital that said smaller classes "should be a priority strategy" for school reopenings.
"This is the utter chaos that results when the province flatly refuses to cut class sizes," says former trustee Doug Little.
"[Ontario Premier] Doug Ford fears the costs and fears small classes will become too popular. Classes can be cut in half at little additional cost as is happening all over northern Europe."