Political prisoner's baby hospitalized after showing COVID-19 symptoms
Political prisoner's baby hospitalized after showing COVID-19 symptoms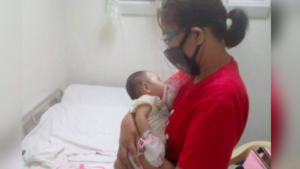 "The court decisions robbed Reina Mae of the chance to properly breastfeed her child. We've said several times that breastfeeding is essential to sustain the health of both of them, especially at this time of the pandemic. Since their separation, the kin of Reina Mae had no choice but to shift to formula milk."
By ANNE MARXZE D. UMIL
Bulatlat.com
MANILA – Political prisoner Reina Mae Nasino's three-month old daughter is hospitalized after showing symptoms of the novel coronavirus.
Kapatid, the support group for families and friends of political prisoners, once again pressed the government for the immediate release of Nasino.
"We call on the government to extend compassion for Reina Mae and her baby girl, River. Let her take care of her sick child. The lethal COVID-19 poses serious threats, especially for a nearly 3-month-old baby who wasn't able to be breastfed enough after being separated from her mother less than two months ago," said Fides Lim, Kapatid spokesperson, in a statement.