Saucy Plate: A labour of love, a passion for good food
Saucy Plate: A labour of love, a passion for good food
By Mila Astorga-Garcia
The Philippine Reporter
Tucked in a corner plaza along Lawrence Ave. East in Scarborough is a hidden gem of a food place called Saucy Plate.
Hidden, because its front door faces the small side street Tower Dr., which runs perpendicular to Lawrence Ave. East, so one cannot readily see it from its main street address.
Like a gem, it is a rare essential service, because it offers take-out and catering of "contemporary cuisine" with a difference, with the added benefit of a "personal chef," as its business card informs. And most importantly, it produces "delicious" food, as writer, historian and book author, Charo Nabong Cabardo, attests, having tasted some of the chef's famous delicacies.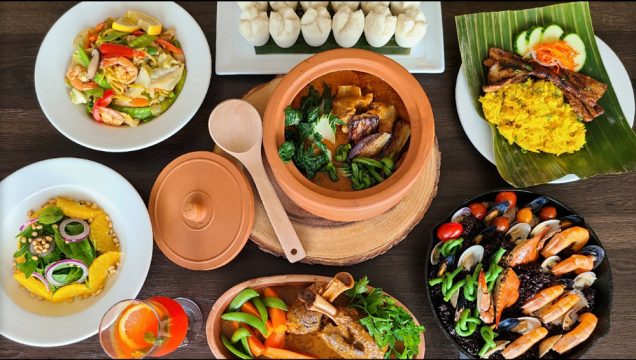 Checking out Saucy Place's brochure, one finds an international array of dishes—Asian, Mediterranean and European. With its Western name, one may never think Saucy Plate is a Filipino-owned and staffed entity, although it lists down familiar Filipino favorites in the menu as well. For example, there is the Chicken Pork Adobo, Oxtail Kare Kare, Fish Ceviche/Kinilaw, Pancit and Liempo, interspersed with the list of international dishes like Chicken Cordon Bleu, Beef Stroganoff, Swedish Meat Balls, Black Rice Paella, and Mongolian Stir Fry.
Visiting the actual location of Saucy Plate, you would find yourself in a simple and sparsely but elegantly furnished white space with tables in a corner, and at the centre, a white counter with pastries neatly laid out in containers and trays – mainly freshly made salads and freshly baked desserts.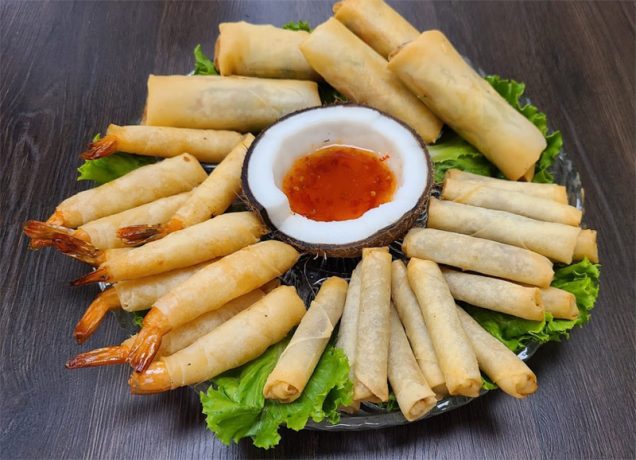 Greeting people who pick-up orders on assigned times or attending to walk-in customers is Celso Mancol, a researcher, writer and environmentalist, who heads the Saucy Plate family that owns the place. Wife Miguela, the master chef, and youngest daughter Olga, the pastry chef, are usually in the kitchen busy cooking and preparing the take-out orders.
Tipped by our long-time writer friend that the Mancols are natives of Samar, biased as I am in my regional food preferences, I wanted to check it out personally if the Filipino food was indeed prepared just the way it is in my also Waray home province, Leyte.
I was not disappointed. From the native "puto," the popular rice cake: to the torta a delicacy cake made with a special kind of flour, eggs and butter; and the pancit, a sautéed noodle dish with seafood and vegetables, everything tasted like honest-to-goodness Waray home-cooking at its best.
This discovery, however, was just the tip of the iceberg, as I learned why the house special Black Rice Paella, cooked with mussles, shrimps, clams, coconut and vegetables; and the Fresh Lumpia, with its freshly made crepe wrap and its special sauce, are so popular with discriminating repeat customers. And why in New York where the Mancols first practised their culinary skills, they were so admired by food connoiseurs for their cooking. Among these admirers were celebrity authors like Dan Buettner, the Emmy Award-winning author of five books on Blue Zones; and John Dramani Mahama, the former president of Ghana and book author, who like Buetnner, had written Celso and Miguela letters thanking them for their unforgettable food, kindness and humanity; and Andrew Solomon, book author, writer of culture and politics, University of Columbia lecturer on psychology, and the Mancols' employer.
Background of Saucy Plate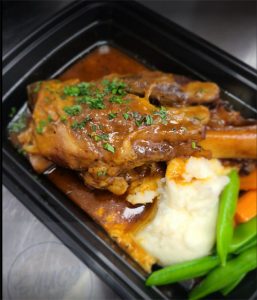 Celso credits Miguela's love for cooking as responsible for the family's involvement in the food business. While growing up in Erenas, San Jorge, Samar, Philippines, she was closely attached to her mother who was always preparing food for her huge family and also to sell in the community. While still in grade school, Miguela would set outside on foot hawking around the barrio neighborhood anything her mother cooked in the kitchen, whether they were simply boiled bananas or native delicacies. Later she lived with her grandmother who was married to a Chinese cook who ran an eatery in the town proper, and that was where she learned how to bake bread and prepare delicious Asian dishes.
In adulthood, Miguela joined relatives in Manila where she met Celso, who was then a government employee. The couple however, decided to make their home back in San Jorge, where Celso worked as a biodiversity researcher and environmental advocate with an NGO while Miguela cooked in a home-based carinderia (small eatery) they had established.
In 1999, Celso migrated to the U.S. upon the encouragement of relatives, with a plan that Miguela would follow him later. He ended up in Seattle, where he worked in various jobs, including housekeeping. Miguela joined him later and helped him with his housekeeping jobs in the houses of rich clients, including Bill Gates's top executives.
In 2004, when Miguela's sister invited the couple to join her in New York, Celso wanted to be assured first of employment. In a magazine, he found an ad looking for a domestic couple in a Manhattan address. Celso and Miguela applied for the position, and sent their resume, detailing their experience in Seattle. They got the job, were sent tickets to New York and upon arrival, started employment as domestic housekeepers for the famous Solomon family in Manhattan, whose head, Howard Solomon, owned Forest Laboratories, Inc., a pharmaceutical company.
Beyond just keeping the house neat and presentable, Miguela would also do some cooking for the household. Before long, her dishes caught the attention of Andrew Solomon, the eldest son of the owner, who aside from being a writer and university professor, was also a lover of good food.
Celso and Miguela thus became a regular part of Andrew's residence, a six-floor heritage mansion, remodelled with modern interiors. As writer and at one time president of PEN (Poets, Essayists and Novelists) New York, he would usually host book launching events, lunches, dinners and parties for writers, politicians, statesmen from different countries, church leaders, and celebrities in the film and entertainment, among them Uma Thurman
Before Miguela and Celso became the household chef and cooking staff, the Solomon family depended on the famous French Chef Daniel Boucod for catering their meals for their guests. A friend of Solomon, seeing Miguela's natural flair and passion for good cooking, placed her in a special seven-day course called Receational Cuisine in a top culinary school in Manhattan. Equipped with her learnings and her own research from books in the home library which she and Celso were given complete access to, she learned how to cook various Mediteranean and European dishes but was mostly inspired by French cooking – her forte. So remarkable was Miguela's cuisine that a close friend of Andrew, Dana Cowin, then the editor of Food and Wine Magazine, had only praises for the lunch she had prepared for her, recalls Celso.
Confident with Miguela and Celso's meal preparation capabilities, Andrew would ask them to take charge in preparing for lunch and dinner events for 20 to 50 people; but beyond that number, the couple would team up with Chef Boucod's staff. Events were mostly book launching by American authors, such as Buettner, where during the launch of his first book on Blue Zones, he asked personally Miguela to assist him as he demonstrated for his guests cooking Blue Zone dishes.
"Whenever he had guests for lunch or dinner, Andrew would let us know their age, profession, background, and allow us to plan the menu ourselves — from appetizer, main course to dessert, for he had full confidence in us. He actually entrusted to us a credit card, solely for our food preparation purposes, to allow us the freedom to decide on the menu, ingredients, and other necessities of a deliciously prepared and elegantly presented meal — big or small. However, we still showed him the final menu plan for approval, which he almost always did. He was very kind, generous, and trustful of us, and we made sure we were deserving of his kindness, generosity and trust," says Miguela.
Later on, Olga, the couple's youngest daughter, joined them in New York, and Andrew offered to pay for her studies in pastry making, which she completed and did well in. She has since added her culinary pastry prowess to her mother's menus.
In late 2018,, however, Celso, Miguela and Olga, with heavy hearts, moved to Canada to join the couple's two other daughters whose families were based in Toronto. Being Canadian citizens, the children wanted to raise their growing families in Canada. It was a heartbreaking and tearful moment for both Andrew and the Mancols, for they had developed between them a friendship that was more than just mutual appreciation and respect for each other. Andrew wished them well, writing a glowing recommendation for the couple, which they could use should they seek employment in Canada, Celso confides.
Early during their Toronto stay, Miguela would gladly cook for her daughter's officemates and friends during children's birthday parties and other special events. This led to various requests by friends for Miguela to cook for them, which the latter wanted to do for free so long as she was provided with the raw ingredients; but her daughters' friends insisted they would now be paying for her services. The idea of a catering service then came into mind. At first, they cooked from their apartment. And then Olga decided to start a catering service with her savings from New York, supplemented by capital from her older sisters, and the knowledgeable assistance of their parents. It was a leap of faith for the family.
"We didn't have much money so we wanted to start small and tried to find an ideal place where we could do our business professionally, says Celso. They found a place they had remodelled, purchased the necessary kitchen appliances, created a website featuring their menu, printed brochures and business cards, and registered for Uber delivery. Finally they were ready to start with the determination to bring into their family business the same professionalism and integrity they had practised in New York
"This was all before COVID-19 struck, but we hope that if people can try what we have to offer, we are confident they can be our repeat customers," says Celso, as he confided it is what is happening now, albeit slowly. They are humble enough to know that they are still so new, with not too many people aware of their existence.
In May, a real estate broker partnered with them to donate food to the frontliners of three hospitals in Scarborough. Saucy Plate prepared one of their popular offerings: roasted chicken and salad. The gesture was greatly appreciated by hospital staff.
Asked what she thinks is unique in the Saucy Plate's food: Miguela says:
"The way I cook, I don't scrimp on ingredients. I make sure I put the right amount of ingredients, observe the right cooking time, and see to it that the food I make is very clean and is just the right quantity needed. I make sure we don't have spoilage. Everyday, we buy our ingredients fresh, especially vegetables. We don't stock supplies as we don't have a large basement freezer, thus encouraging us to buy fresh according to need. I'm particular about the kind of butter, sugar, milk, eggs and other basic ingredients I use. And when a specific catering item is ordered, I make sure the customer knows how much time it takes us to make it, so I don't take in any rush order that will force me to do a short cut in terms of preparation and cooking time. Otherwise, the end result of my cooking is not what I desire in terms of quality. Most of all, aside from quality, I want our food to be affordable."
With the Mancol couple's and Olga's culinary gifts, and their belief and practice of delivering quality food with the same integrity and professional service displayed in New York, satisfied customers can only hope Saucy Plate will survive the economic challenges of COVID-19 so that they can deservingly thrive as a business borne out of their labor of love and passion for good food.