Elevating Philippine Arts & Culture in 2020: Stories From the Community
Elevating Philippine Arts & Culture in 2020: Stories From the Community
December 13, 2020
Dear Friends of Kapisanan,
As we near the end of what has been an unprecedented and challenging year for all, it has also been inspiring to see marginalized voices amplified and celebrated. This includes the work of talented individuals from our Filipinx community.
We've rounded up just a few highlights of Filipinx excellence demonstrated in mainstream music and entertainment, art, and entrepreneurship. You might recognize some familiar faces—let's give a big shout out to these folks for their work and passion for elevating Philippine arts and culture:
Pantayo Shortlisted at The 2020 Polaris Music Prize Awards
Pantayo, a Toronto-based, all-women kulintang ensemble released their self-titled debut album in May, which earned a spot on the 2020 Polaris Music Prize shortlist. With this prestigious nomination, Pantayo found themselves in the company of other notable Canadian music acts, such as Lido Pimienta, Backwash, and Witch Prophet.
As part of their nomination, Pantayo collaborated with award-winning filmmaker, Tricia Hagoriles, to produce a short film titled Huwag Mataranta—a futuristic, sci-fi reimagination of the track "Taranta."
Voices from the Field:


Filipino Identity and Contemporary Cultural Practice
Sometimes, having uncomfortable conversations is necessary—this includes talking about practising culture safely.
When it comes to being diasporic Filipinxs, we hold the responsibility of protecting our cultural heritage through being mindful and open to creating discourse with our elders who live it daily. Being oceans away from our homeland, it's important to practice our culture in a way that doesn't negatively impact those closest to it.
In October, House of Gongs set out to bring awareness to this issue by inviting a couple of speakers from the Kapisanan community: Caroline Mangosing, CEO & Creative Director of Vinta Gallery, and Pantayo. Be sure to check out the full series on House of Gong's website.
Pasko Na Pasko Talaga: A Philippine Christmas in Contemporary Times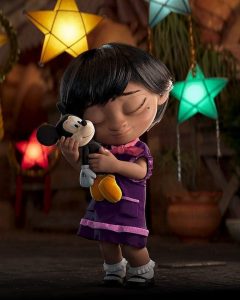 You've probably seen or heard about Disney UK's wholesome, tear-jerking Christmas advert featuring Philippine parol-making, a lola, and her granddaughter. It tugged on the heartstrings of the Filipinx diaspora and inspired Glorious Dias designer, and friend of the K, Jodinand (Jodee) Aguillon, to create a one-of-a-kind, hand-embroidered "barong parol."
Jodee was recently featured on GMA News Online and shared, "This parol brings new life to a hand-embroidered 'batok' motif that was emblazoned across the nape of what would have been a dashing baron. Finally put to use my spool of vintage cotton lace trim as I was going for Tropical Gothic Lola Lolita na Home Alone Bahumbug realness".
Check out his intricate work on Glorious Dias' Instagram. If you're feeling inspired to make your own parol this Pasko season, Jodee has created a tutorial that you can follow.
These are just a few Filipinx stories making waves and bringing light to what has felt like a dark and distressing year. There are countless other narratives around the globe and we encourage you to seek them out, amplify them, and share them widely in your networks. And if you're a creative as well, showcase your talent and get your art out there! The world needs to see it and we'll be here to cheer you on.
Warmly,
The Kapisanan Team