On the incredulous red-tagging of Altermidya Network at the Dec. 1 Senate hearing
On the incredulous red-tagging of Altermidya Network at the Dec. 1 Senate hearing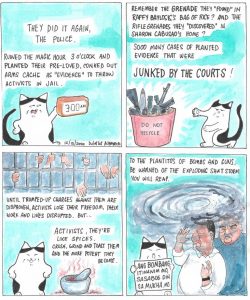 ONCE AGAIN, state forces led the hostile red-baiting of independent media at the December 1 Senate hearing after they presented the Altermidya Network and its members nationwide as so-called communist fronts.
The red-tagging of Altermidya journalists, online and on-ground, has intensified even more in the past months. These incidents, just like the National Task Force to End the Local Communist Armed Conflict (NTF-ELCAC) presentation at the Senate hearing earlier, were done without evidence and incredulously linked the member outfits of Altermidya to an underground Communist organization.
In fact, the task force, despite its billion-peso-budget, merely copied the publicly-available Altermidya list of members and placed it under an incredible organizational heading.