Court orders arrest of Maria Ressa, Rambo Talabong over Benilde thesis story
Court orders arrest of Maria Ressa, Rambo Talabong over Benilde thesis story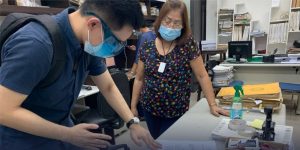 Lawyer Ted Te says the cyber libel case is 'disturbing because it seems like cyber libel is now the first option in case of disagreement on reporting.' Rappler calls for the decriminalization of libel.
Manila Regional Trial Court (RTC) Branch 24 ordered the arrest of Rappler CEO Maria Ressa and reporter Rambo Talabong for cyber libel over the latter's investigative story about an alleged corruption scheme at the De La Salle-College of Saint Benilde (CSB).
In that scheme, students allegedly paid P20,000 to pass their thesis subject.
Judge Maria Victoria Soriano-Villadolid issued arrest warrants against Ressa and Talabong on Monday, January 11, and recommended bail amounting to P30,000 each. It was Talabong's first arrest warrant and his first libel case, while it was Ressa's 10th arrest warrant and her 3rd cyber libel case in less than two years.