Shot dead: North Cotabato mayor in Duterte drug list
Shot dead: North Cotabato mayor in Duterte drug list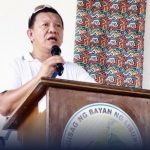 Libungan town mayor Christopher Cuan survived an assassination attempt in 2019
Christopher "Amping" Cuan, the mayor of Libungan town in North Cotabato who was included in President Rodrigo Duterte's infamous drug list, was shot dead along with his driver on Monday, January 11, police said.
The mayor survived a kill attempt two years ago.
In a phone interview with Rappler, Libungan police chief Captain Jennifer Amutan said Cuan and his driver were killed by an unidentified gunman at around 10:30 am at Barangay Cabaruyan.