Standard Chartered, stop funding our destruction!
Standard Chartered, stop funding our destruction!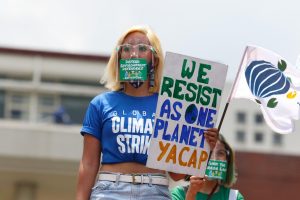 By MITZI JONELLE TAN
Bulatlat.com
Dear Mr. Bill Winters, CEO of Standard Chartered Bank,
Before reading, you may want to know that by writing these lines I am putting my life in danger. This may sound dramatic to anyone in the UK or Europe but it is the harsh reality of activists on the ground defending themselves against the projects you finance. So be assured, Sir, this letter is not written in the spur of the moment, but I see no other way than to bring to light what Standard Chartered is doing in this part of the world.
My name is Mitzi Jonelle Tan. I am an activist with Fridays for Future Philippines and I want to tell you that your money kills people, fuels the climate crisis, and destroys our homes. No other bank puts more money into coal plants and mines in my country than Standard Chartered. Your official slogan is "here for good." Yet, Standard Chartered finances the pollution of our water, makes our air unbreathable, and toxifies the soil we live on.