A treasure trove of food and art
A treasure trove of food and art
Sketches, recipes, descriptions of food from 40 countries
By Mila Astorga-Garcia
The Philippine Reporter
Jojo Sabalvaro-Tan did it again! The prolific artist, writer/author/blogger and craftswoman came out with her third book, Passport to Global Cuisine, Exploring the World's Kitchen with a Watercolor Journal, published in November 2020.
Passport to Global Cuisine contains a selected collection of the author's "anecdotes, recipes and food sketches from worldwide travels" with her husband and friends, her high school classmates from the University of the Philippines Preparatory School 1965.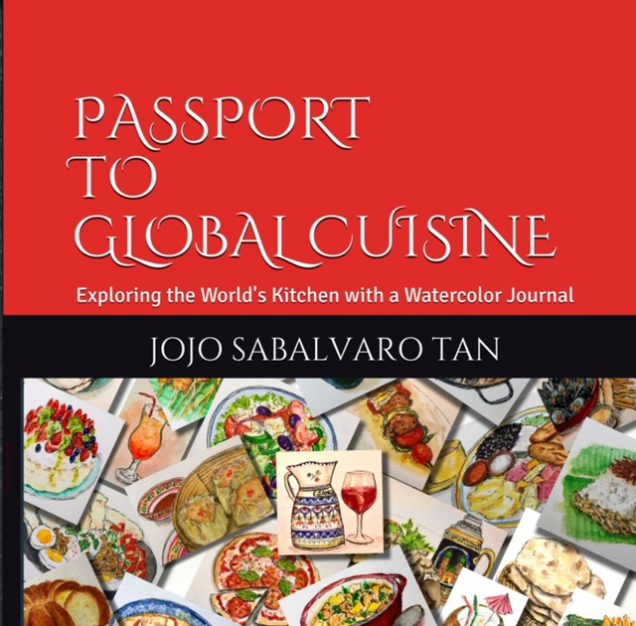 What makes this publication unique — just like her previous works (Passport to Creativity, and Blue Moon) – is that it is written and illustrated by Sabalvaro-Tan herself, an accomplished watercolorist who has travelled extensively, documenting her adventures through her water colour paintings and writings.
Calling this colourfully illustrated volume her "travel journal-cum-cookbook," it contains recipes of food she has experienced in over 40 different countries all over the world. She savours each food item she describes, no matter where or in what circumstances she finds herself in — at a fancy hotel, a famous restaurant, a high school friend's kitchen, an airport pub while waiting for a connecting flight, or a backstreet of the Vatican where she finds herself exhausted and hungry after a pilgrimage.
In her book, which she writes with a friendly, whimsical style that makes her accounts pleasant reading, she captures inviting features of the food or drink she describes, that you suddenly crave for them She is also fastidious in describing the process of food preparation, that you would be enticed to try the recipes yourself. Moreover, she describes the origins and the culture of the place of some of the culinary gems, that you get a bonus history lesson in the process.
With the beautiful illustrations, the book is by itself a food and art collector's treasure, just as these two testimonials in the book would attest:
"Another tour de force, in which Ms. Jojo Sabalvaro-Tan captures her travels in her delightful stories and watercolor sketches. Now she adds the taste of local dishes she enjoyed worldwide and shares it with her readers. Delicious!" says Tracy D'Hooghe, restaurant food critic.
"I have been to many of the countries featured here and this book brings all my own experiences back. The stories, art and food are appealing. This is a must-read for art, global travel and food enthusiasts alike. Can't wait to try out the recipes at home," says Yogi Dominguez Zaragoza, world travel specialist.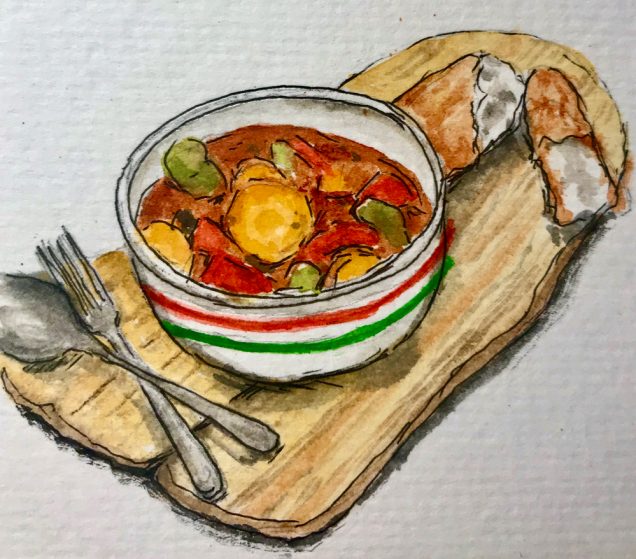 HUNGARY – GOULASH (GULYAS)
My high school class held one of our international destination reunions in Vienna. Budapest, known as the Queen of the Danube, was one of our side trips. Once you see the majesty of their Parliament building perched on its banks, you will definitely agree. It is also a city of spas and baths, with hundreds of boreholes and springs pumping more than 15 million gallons of water daily. My husband and I wanted to experience one of the baths. Unfortunately, our schedule was tight and it was a rainy day. It made for a great day to sample Hungarian Goulash, a heart- warming soup originally prepared by herders (gulyas). Our guide brought us to The Cat in a Sack restaurant known for serving authentic goulash. The restaurant's food was good but we were more delighted in enunciating its Hungarian name, Zsakbamacska.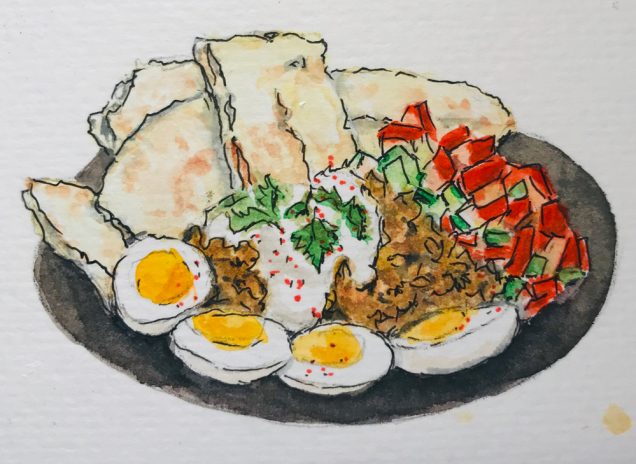 EGYPT – FULL MEDAMES
At our hotel in Cairo, there was a traditional Egyptian wedding celebration being held with what must have been a few hundred attendees. This was in the early 1970s, before the advent of the ubiquitous DJ, so traditional Nubian music filled the air. The bride, resplendent in gold, and the groom, in a traditional garb, were perched on the stage, and a parade of guests came by to give them well-wishes and blessings. I decided that this may be my only chance to fully immerse in this type of experience, so I bravely went up the stage and greeted the happy pair as well. You should have seen the couple's startled faces. No security forces came after me (sigh of relief!). I'm pretty sure the wedding dinner menu included Ful medames which is a stew of cooked fava beans. It is often served with eggs, vegetables, meats, tomato sauce and variety of spices and bread. It is said that Ful has been enjoyed by Egyptian families going back to the days of the Pharaohs.