Care workers intensify campaign for protection, reforms as COVID-19 hits third wave
Care workers intensify campaign for protection, reforms as COVID-19 hits third wave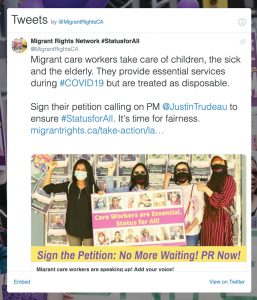 April 6, 2021
Veronica Silva Cusi
The Philippine Reporter
Caregivers in Canada, mostly migrant workers, are intensifying their campaign to demand reforms as some provinces in Canada are in the third wave of the COVID-19 pandemic.
The Migrant Rights Network (MRN), a coalition of migrant workers supporters that include care workers, launched on April 6, an online petition to collect thousands of signatures which they plan to present to Prime Minister Justin Trudeau and Immigration Minister Marco Mendicino on Mother's Day on May 9.
In Toronto, among the care workers groups spearheading the campaign are the Careworkers Connections Education and Support Organization (CCESO) and Caregivers Action Centre (CAC). CAC hosted an online planning meeting last March to finalize their demands and write up their petition.
Martha Ocampo, a volunteer with CCESO, said in an interview with The Philippine Reporter, that the campaign is not new. "But since the start of the pandemic, there have been issues experienced by care workers. We want to remind the Prime Minister the demands he needs to attend to."
"They have been saying (that) yes, they do acknowledge that care workers are essential workers, that they have done so much, especially during this pandemic. Yet they are not doing [enough] in terms of the demands being asked by care workers," she added.
In the online petition at LandedStatusNow.ca, the main demand is "full and permanent immigration status for all not just for themselves but all migrants." Other demands are:
• No more waiting for PR processing
• No English language requirements
• No education accreditation requirement
• No more tied work permits
• Reunite families
For Ocampo, she said she has been active in the campaign for landed status since the 1980s with the Foreign Domestic Movement (FDM), which was renamed the live-in caregiver program in the 1990s with mainly the same requirements: two years of experience and live-in service. The LCP is now "closed to new applicants" and other caregiving options are available to foreigners who would like to get permanent residence in Canada by doing care work.
She added that some of the requirements for care workers to get permanent residency – such as English language and education — are "irrelevant to the skills they are providing." "If they [care workers] have worked here [in Canada] for two years, and the employers like them, why do they still need this language requirement which is very, very high?"
Under the Interim Pathway for Caregivers Program, which closed in October 2019, the minimum score required is Canadian Language Benchmark 5 for all abilities: reading, writing, speaking and listening.
Ocampo said they have heard of caregivers who have failed the tests so many times. "The minute they go into the [testing] room, they are so nervous" they fail the test.
Care workers have also been demanding prompt action on their PR applications. MRN stated in the petition that the current backlogged applications are at least 9,100. And this backlog has been ongoing even before COVID-19, added Ocampo.
As soon as eligible care workers complete the requirements, they can apply for PR status for an opportunity to be reunited with their families.
But care workers have been separated from their families for a long time. "One day is too long; … they need to be reunited with their families," said Ocampo. "Families are the natural support for people facing depression (and) stress. You don't want them going to the hospital because they have mental health issues. If they have their family here, the family will be giving them the support. The Prime Minister and Immigration Minister have to understand the importance of family reunification."
Ocampo said the pandemic crystallized the inequities experienced by the vulnerable workers like care workers. "… For as long as we don't have a national strategy for childcare, the elderly and the disabled, they [families] will always need care workers. … This might be a good time to push the Prime Minister to do something."
Last November, caregiver groups released a report about alleged abuses and exploitations that caregivers have experienced during the pandemic.
The online campaign, and maybe even in-person paper campaign in other parts of the country with loose COVID-19 restrictions, is expected to culminate on Mother's Day, May 9. Ocampo said that in Toronto, depending on COVID-19 restrictions, they might present the petition to the office of Minister Mendicino, who is Member of Parliament for Eglinton-Lawrence.
——————————-
Veronica Silva Cusi is a multimedia journalist and researcher with more than two decades of experience. She was a business journalist (editor and researcher) for 12 years with BusinessWorld in the Philippines and a journalism university lecturer for 14 years at University of the Philippines. She also worked as editor and reporter in Singapore before migrating to Canada. Some media she has worked for include Computerworld Philippines, Singapore/Malaysia, and The Filipino Channel (North America). She's been covering ethnic media in the GTA for more than a decade now. Veronica holds two master's degrees — Communication Research from the University of the Philippines and journalism from Ryerson University. You can follow her on Twitter @VSilvaCusi.