Hospitals on the 'brink of collapse' – health workers
Hospitals on the 'brink of collapse' – health workers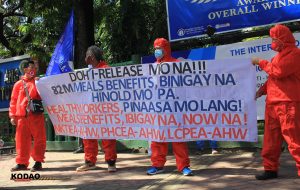 By JOSEPH CUEVAS
Kodao Productions / Reposted by Bulatlat.com
MANILA — Health workers said hospitals are on the brink of collapse amid the spike in coronavirus cases in the country.
In a press conference Tuesday, April 7, Alliance of Health Workers (AHW) members said hospitals are overwhelmed with new patients every day and employees themselves are falling ill from the virus.
A number of health workers also resigned or have taken early retirement options due to fear, fatigue, frustration and severe demoralization, AHW said.
Emergency rooms, intensive care units, wards, isolation facilities of private and public hospitals are overcrowded and overflowing, the group said, while tents or modular container vans are full of patients waiting admission.