Positive steps to address extrajudicial killings
Positive steps to address extrajudicial killings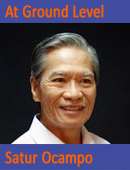 Fourteen years ago, alarmed by the mounting incidences of extrajudicial killings and enforced disappearances in the country under the Gloria M. Arroyo administration, the Supreme Court, then headed by Chief Justice Reynato S. Puno, responded with unprecedented decisive actions.
The Puno court, with all the magistrates taking active roles, convened a summit dubbed as "A Conspiracy of Hope" in July 2007 and invited a wide range of public participation of concerned sectors plus the military and the police. The summit resulted in successive promulgations by the SC of three additional writs: of amparo in 2007, of habeas data in 2008 and of kalikasan in 2010 – all expanding the judicial protection of the privilege of the writ of habeas corpus.
Notably, the writ of amparo enabled the star witness in the abduction and disappearances, in 2006, of the former UP students Karen Empeño and Sherlyn Cadapan to testify before the SC. His testimony led to the filing of the charge of kidnapping with serious illegal detention against president Arroyo's "favorite general," Major Gen. Jovito Palparan Jr., known as "the Butcher." After seven years of trial, the Bulacan court on Sept. 17, 2018 convicted and sentenced him (with two others) to 20-40 years in prison.