101-year old Resurreccion Raqueno's birthday wish
101-year old Resurreccion Raqueno's birthday wish
Last week, I received a wonderful letter from Michelle Raqueno that had inspired me to resume one of my two columns in The Philippine Reporter, Lives and Memories, and this story will tell you why.
Having been focused on news and feature writing, copy editing stories and managing the editorial desk these past few years, I had set aside column writing. However, this poignantly written letter from one of our readers whom we do not personally know touched us.
Here is Michelle's emailed letter:
Hello Mila,
I wanted to reach out to share photos of my Lola (Resurreccion aka "Rexie" or "Nanay" Raqueno) who just turned 101 years young on April 4, 2021!
Her wish was to have her photo in your newspaper as a commemoration of her milestone.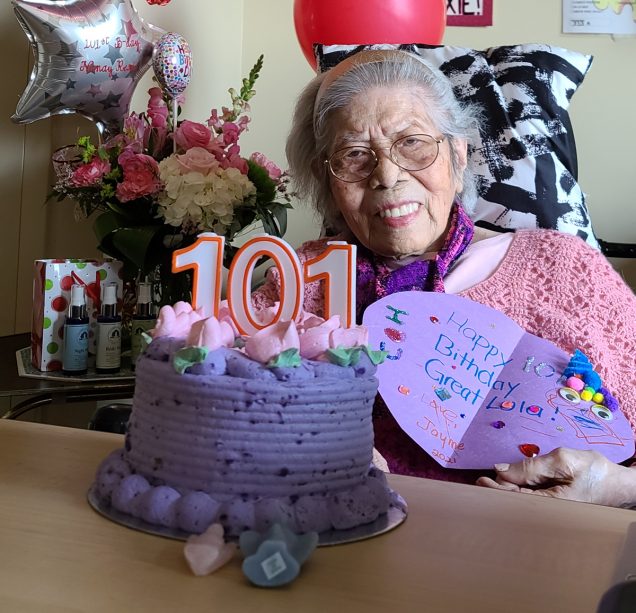 Resurreccion Raqueno was born in the Philippines and immigrated to Canada in 1976 to start a new chapter in her life. My father, Edilberto aka "Eddie" Raqueno sponsored both his parents, Rexie and Jose, to come to Canada.
Rexie was an educator in the Philippines and has three children: the late Eddie, the late Jessie, and Nel. Rexie has six grandchildren and six great grandchildren.
She is the most thoughtful, caring, considerate, generous, and a very strong woman in spirit and heart. She believes the secret to life is to "think positive about everyone and everything in life".
It would mean a lot if Rexie was featured in your next issue.
Please find some photos attached and let me know if you would like to speak further, and confirm whether she will be featured so I can make sure to pick up a copy. Or whether it can be mailed to me.
My name is Michelle Raqueno…
I contacted Michelle right away to let her know The Philippine Reporter would be glad to grant her grandmother's request, and to join her family in honouring her life. After all, having lived such a long life that had inspired Michelle enough to follow up on her grandma's birthday wish, we thought we could do more than just publish Ressureccion's photo, but to share her story and words of experience and wisdom as well to our readers.
Michelle agreed to take a list of questions from The Philippine Reporter for her grandma to respond to during her visit to the nursing home where the latter is residing. Luckily for all of us, including Michelle, Resurreccion Raqueno, the 101 recent birthday celebrant was amenable and happy to be interviewed. Although much weaker since her 101st birthday last month, she apparently was in high spirits as she responded to the questions. Michelle tells us Resurreccion was an avid reader of The Philipppine Reporter, but as she became weaker in her later years, Michelle would read to her the paper whenever she could get hold of a copy.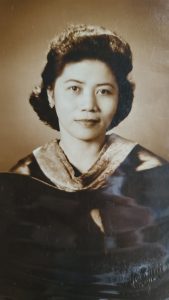 Following is the interview based on The Philippine Reporter's questionnaire, supplemented by follow up questions from Michelle.
TPR: From what part of the Philippine does your family come from?
RR: Quiapo, Manila, Santa Cruz, Manila, Quezon City
TPR: What do you remember most of your growing up years?
RR: Mostly playing, teaching, and studying. I grew up in Manila and I attended University of Sto. Tomas in Manila. My family grew up in a home in Quiapo, Manila. I have five brothers, and four sisters, and I am the eldest among the girls.
TPR: How did you meet your husband?
RR: I met my husband, Jose, at Iloilo High School where we were assigned as teachers — it was both assigned as teachers — it was both our first time teaching. Jose had just returned home to the Philippines from studying in the US. He returned because the war was approaching and he didn't want to be in a foreign country during a war. We had met one another in the teacher's room. Jose taught math, and I taught Home Economics/Health Education.
Michelle (follow-up question): Was it love at first sight?
RR: No it was not love at first sight…(laughing). He had courted me for months.
TPR: What are your memories of some of the historical times that you have lived through, such as the two World Wars and martial law in the Philippines?
What can you remember for instance about the Japanese occupation in the Philippines? How did this affect your family?
RR: (The war was 1942 to 1945) I was teaching just before the war and left for the mountains with some of my co-teachers to live in a home owned by a local dentist. There were seven of us living there until the liberation of the Philippines from 1942 to 1945. I did not have any contact with my family back in Manila during this time.
We would get warnings of Japanese troops that would be on the way to patrol the mountains and we would have to pack up our sleeping gear, travel higher up the mountains and sleep in caves. As soon as the troops left, we would go back to the home.
TPR: What made you and your husband decide to come to Canada?
RR: My son Eddie had a dream of coming to Canada to start a life where opportunities flourished. Eddie immigrated to Canada. It was our chance to come to Canada. I was already married and retired from teaching and decided to join my son and his new family…I remember seeing snow for the first time in Canada, and my first (female) grandchild was afraid of the snow. It was cold!
TPR: What was your experience as new immigrants? Were you able to work in your professions?
RR: I had applied for a teaching job upon arriving to Canada to teach at a high school level in Toronto but I didn't hear a response so I applied for a cook's position at the brand new CN tower and was part of the first round of hires to this newly built attraction. I worked at the CN Tower when it opened, as a cook.
The (Philippine) bureau of education had made a recommendation for me as a teacher. In Canada, I was later offered a job as a substitute teacher. I didn't have a car or know the area well and was already working at CN tower so I declined the job offer. I didn't know the area well and didn't really want to worry about having to travel from school to school.
Michelle (follow-up question): Did you like the job at CN Tower?
RR: Oh yes, it was very easy.
TPR: What are your interests — reading music sports crafts cooking travels, etc.
RR: Cooking and baking … I can cook anything, reading, global news, music, especially classical, baroque, live performances, theatre, opera, symphonies which I frequented with my only granddaughter, art, knitting, sewing, gardening, but not sports (laughing).
TPR: What were the most challenging moments in your life in Canada?
RR: I didn't find any challenges coming to Canada, it was very easy to live in Canada. You can hop on a bus to get anywhere. Transportation was easy. I was offered a job very quickly upon arriving….My husband learned how to drive but I never learned how to drive since my husband did — he was my chauffeur… (giggles).
TPR: What to you were your happiest moments, her biggest accomplishments?
RR: Working as a teacher, teaching health education/home economics at a college level.
TPR: What is your secret to a long life?
RR: "Think positive about everyone and everything in life"
TPR: What is your advice to the young people of today, especially to Filipino Canadian youth?
RR: Love your work and adjust to people.
Michelle (follow-up questions)
What do you mean to adjust to people? And why?
RR: To get along with people. How can you exist if you don't want to adjust (in life)?
TPR: What is her most fervent wish at present?
RR: To have a peaceful life, as usual.